Indians option unavailable Carrasco to Triple-A
Indians option unavailable Carrasco to Triple-A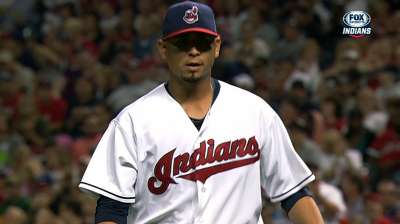 DETROIT -- The Indians optioned Carlos Carrasco to Triple-A Columbus to make room for Jason Kubel, but he will be back with the team Tuesday as an extra arm in the bullpen.
Carrasco was sent down because he wasn't available for Saturday's game after pitching 1 1/3 innings on Friday. In his last three appearances out of the bullpen, Carrasco has given up two hits, walked one and struck out five in 5 1/3 innings.
"It is very encouraging the way he pitched," manager Terry Francona said. "His aspirations are to be a starter and so are ours. I don't think it's really done anything to hurt his chances as a starter. I think it's actually enhanced it because he's pitching well. He was creating some confidence that can't hurt anything. But in the short term, he's really helped us in the bullpen and that's been great."
Carrasco struggled as a starter this season, allowing more than six runs in four of his seven starts.
"One of the things is when you're starting, you have five days to sit and think," Francona said. "Maybe that's something as you mature, you handle better. The other thing is the way he pitches, his stuff is so good that when he starts sometimes, he runs into a tough inning, maybe he goes away from his fastball. As a bullpen guy, when you're facing a hitter once, his stuff plays up so much."
Francona mentioned Curt Schilling as a pitcher that came out of the bullpen for a few seasons early in his career before transitioning successfully to the rotation. Schilling's first two full seasons in the big leagues were as a reliever, before he switched to a starter for the next 18 years.
"I definitely think [Carrasco has] been pounding the zone really well," Francona said. "But I don't know if that means he can't do it as a starter. It kind of seems to me like it's almost win-win. We put him in this role, and he's really done well. It can't hurt him going forward in any capacity."
Bobby Nightengale is an associate reporter for MLB.com. This story was not subject to the approval of Major League Baseball or its clubs.