Rzepczynski finds form in second chance with Tribe
Rzepczynski finds form in second chance with Tribe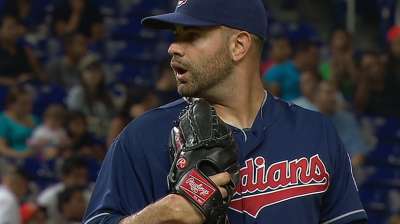 DETROIT -- While the Indians hope their trade for Jason Kubel can provide a boost to their bats, their Deadline deal for Marc Rzepczynski has already paid dividends for the bullpen.
Rzepczynski has allowed six hits and one unearned run in his first 11 2/3 innings since joining the Indians. He's inherited 11 runners, and only three have scored.
"He's been terrific," manager Terry Francona said. "He's come in and he's thrown strikes. He's kept the ball down. He's got good movement."
Rzepczynski struggled this season with the Cardinals and was demoted to their Triple-A affiliate at the end of April.
"I was able to work on more stuff down there," Rzepczynski said. "When you're in the big leagues, you can't work on stuff. I was going multiple innings, so I was able to throw my changeup, throw my breaking ball, and work out of my own jams, too."
Rzepczynski entered Friday's game at Comerica Park in the fourth inning with two runners on and two out against Prince Fielder. He hit Fielder with a pitch to load the bases, but was able to escape the jam by getting Victor Martinez to ground out to end the inning.
"I've had better execution with my pitches and sometimes luck," Rzepczynski said. "Sometimes balls that get hit at people are sometimes hits or the other way around. I think in St. Louis I wasn't executing my pitches, and the balls that were in play were hits. I think it's a combination of just throwing the ball where I should throw it and more luck than anything else."
Rzepczynski was traded from the Blue Jays to the Cardinals during the 2011 season and ended up being a major part of St. Louis' bullpen on its way to a World Series title. Rzepczynski won't be a free agent for another two seasons and hopes the lessons he learned at Triple-A Memphis this year will help him remain a fixture in the Tribe's bullpen.
"You're never happy to get sent down," Rzepczynski said. "But I definitely took it as I need to work on stuff. I got to the ballpark every day thinking, 'What could I work on?' When I went out there, for the most part, I started to throw strikes and tried to throw stuff where I know can, and get back to where I should be."
Bobby Nightengale is an associate reporter for MLB.com. This story was not subject to the approval of Major League Baseball or its clubs.