Aviles hopes grand slam gives Tribe needed jolt
Aviles hopes grand slam gives Tribe needed jolt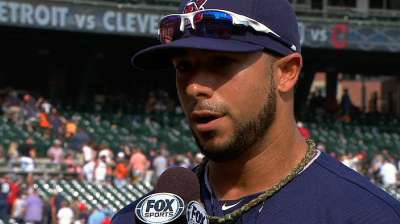 CLEVELAND -- Mike Aviles dug into the batter's box during the ninth inning of Sunday's game in Detroit with an opportunity to infuse the Indians with a positive jolt, something the club had been sorely lacking throughout its recent road trip.
Cleveland had lost each of its five previous games and failed to score in that afternoon's series finale at Comerica Park. With the bases loaded, Aviles put four runs on the board by knocking a grand slam off Tigers reliever Joaquin Benoit, spurring the Tribe to a sweep-averting, 4-0 victory and providing a positive start to the season's final month.
The Indians entered Monday trailing Tampa Bay by 3 1/2 games for the American League's second Wild Card spot. Could Aviles' clutch homer catapult the Tribe to a sizzling finish and postseason berth?
"I'm hoping it does," Aviles said. "I'm pretty sure everybody else is hoping so too.
"In all honesty, I don't really care who does it nowadays. As long as we're winning, it doesn't really matter who the guy is that helped us win. The bottom line for us is trying to find ways to win, and that was just one of those things where we were able to come out with a victory late in a game. And hopefully we can take that momentum forward."
The Indians are trying to follow a mediocre August with an impressive September. They have 26 games remaining on the schedule, and only nine of them will come against teams that currently carry winning records. Cleveland will host Baltimore for three games this week and Kansas City for three games next week. In the week that follows, the Tribe will play three road games against the Royals before capping the regular season with 10 straight contests against sub-.500 teams.
The playoffs are still possible, and though reaching them won't be without its challenges, Cleveland's players are eager to make a run at October baseball.
"We've played ourselves positively and negatively into a position where every game means so much," Tribe manager Terry Francona said. "I can think of a lot worse scenarios. I can think of a few better, but I can think of a lot worse. The fact that it's September, and every time we go out there it's so meaningful, that's good."
Mark Emery is an associate reporter for MLB.com. Jordan Bastian is a reporter for MLB.com. Read his blog, Major League Bastian, and follow him on Twitter @MLBastian. This story was not subject to the approval of Major League Baseball or its clubs.