Strained oblique has Masterson day to day
Strained oblique has Masterson day to day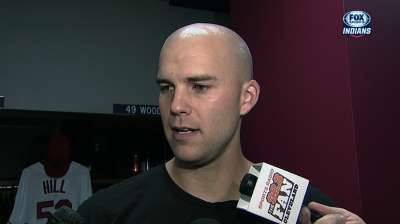 CLEVELAND -- Indians starter Justin Masterson underwent an MRI on Tuesday and was diagnosed with a strained oblique that will force him to miss at least one start. Cleveland is hoping the injury is not season-ending, though it certainly has the potential to be.
Masterson, the Indians' most durable and reliable starting pitcher, exited Monday's game after facing just five hitters because of what the team described as soreness on the left side of his ribcage.
An All-Star this season, Masterson said he felt fine in the bullpen before the game. He sensed a minor amount of pain during the first inning and applied some IcyHot before the second in the hope that the discomfort would go away. Instead, the issue only worsened in the new frame, leading to Masterson's departure during a Nick Markakis at-bat.
"When I went back out," Masterson said, "it must have tightened up on me, because when I went to try and throw, the balls were not coming out the way I would have liked them to. I couldn't really get through the pitch."
It's too early for the Indians to put an estimate on the amount of time Masterson will miss. He's supposed to undergo an MRI on Tuesday, at which time the club will have more information.
Indians manager Terry Francona made two trips to the mound during the second inning, once to check on Masterson and again to remove him. The skipper said the team was keeping a close eye on the sinkerballer after he mentioned feeling something wrong in the first inning.
"When I went out there the first time, he said he was OK," Francona said. "I wanted to give him a chance to pitch, but it wasn't coming out very well.
"You could tell he was protecting himself a little bit."
Francona called Masterson the team's best pitcher, and it would be difficult to argue. In 29 starts this season, the big righty is 14-10 with a 3.52 ERA. Throughout the season, Zach McAllister and Corey Kluber have missed time because of injury and Ubaldo Jimenez and Scott Kazmir have been inconsistent, but Masterson has served as the rotation's rock.
"He's our ace, basically," said second baseman Jason Kipnis, the Tribe's other All-Star. "He's the guy we count on. He's the consistent starter that we can throw out there when we need someone to stop a losing streak, or when we need someone to go out and give a good start for us."
The Indians remained afloat while Kluber went on the disabled list in early August. His return is scheduled for Friday, and the hope for Cleveland is that he can help minimize the effect of Masterson's absence if Masterson is forced to miss a start or go on the disabled list.
"It's not the best-case scenario," Masterson said, "but what's great is we got Corey Kluber coming back for us pretty soon. So if it is any more serious than I think it is, we have some good guys in place that can do a lot of work. It's not going to be fun, if that is the case, but we're hoping that things will be all right."
Mark Emery is an associate reporter for MLB.com. Jordan Bastian is a reporter for MLB.com. Read his blog, Major League Bastian, and follow him on Twitter @MLBastian. This story was not subject to the approval of Major League Baseball or its clubs.