Oblique strain could jeopardize Masterson's season
Oblique strain could jeopardize Masterson's season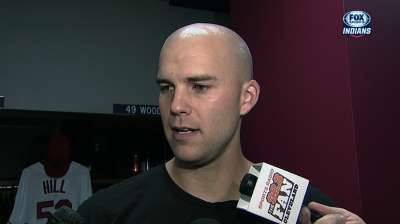 CLEVELAND -- Indians starter Justin Masterson will miss at least one start with a left oblique strain. His season might be over, but the Indians are hopeful that the right-hander can return before the end of the month.
Masterson underwent an MRI on Tuesday and was diagnosed with the oblique strain. He was removed from Monday's game against Baltimore after facing just five hitters because of what Cleveland described then as soreness on the left side of his ribcage.
"With these types of things, I think it's probably reasonable to think that he's going to miss a little time here," manager Terry Francona said. "The hope would be that it's not the rest of the season. But we'll just keep monitoring him and see how he's progressing. We're certainly not going to do something that's not in his best interest, either."
Masterson, a first-time All-Star this season, is 14-10 with a 3.52 ERA. The sinkerballer has been the most reliable starter in Cleveland's rotation, which means his continued absence could have an impact on the Tribe's playoff chances.
"It could be a short amount of time," Masterson said. "It could take a little bit."
The Indians entered Tuesday 3 1/2 games out of the second American League Wild Card spot.
On Monday, Masterson sensed some discomfort in the first inning but thought little of it. The pain worsened in the second inning, and the Indians figured it would be best to remove him.
Earlier this season, Masterson felt something similar, though it did not escalate in the same fashion.
"I guess it wanted to wait until later in the season, when it was more exciting and we had more stuff going on," Masterson said.
Right-hander Corey Kluber, who hasn't pitched since Aug. 5 because of a right middle finger sprain, will start in Masterson's place on Saturday against the Mets. Cleveland survived without Kluber in its rotation, and it will try to do so with Masterson out.
Moving forward, the team will rely heavily on Masterson's symptoms in deciding how to handle him. The pitcher said the soreness he felt Tuesday was no worse than it was the day before.
"Hopefully, that will go away in a few days," Masterson said, "and then we can kind of get aggressive with it and see what we can do."
Mark Emery is an associate reporter for MLB.com. This story was not subject to the approval of Major League Baseball or its clubs.