Tomlin satisfied with return from surgery
Tomlin satisfied with return from surgery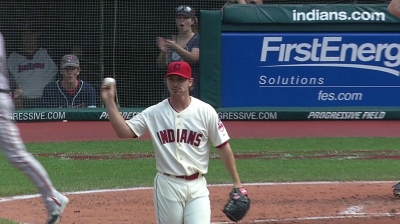 CHICAGO -- Josh Tomlin pitched in a Major League game Thursday night for the first time in over a year, completing his return from Tommy John surgery for a partial tear of the ulnar collateral ligament in his pitching elbow.
Tomlin -- who pitched two scoreless innings of relief in Thursday's 14-3 win over the White Sox -- said his return was emotional and satisfying.
"It was pretty special [and] pretty emotional, for sure," Tomlin said. "When you go through the [rehab] process for over a year and to get back to this point and to go out there and throw two scoreless innings was pretty special."
Tomlin added that while it was a challenge to return late in the season, especially with his team chasing a playoff berth, he was happy to be contributing to the effort.
"[To be in a playoff race] is the reason you play the game," the right-hander said. "You want to get out there and help your team win as many games as you can. … [My teammates] have been on the ground all year long, [and] I haven't actually been here with [them]. So for me, I feel a little bit fresh, so if I can go out there and throw a couple of innings and save [the rest of the bullpen], that's what I'll do."
Tomlin struggled through elbow pain in 2012, beginning the season as a starter and being moved to the bullpen in July before determining surgery was necessary in August. He posted a 5-8 record with a 6.36 ERA in 21 appearances (16 starts).
Manager Terry Francona said that while it was not the ideal backdrop for Tomlin's return to Major League action, he knows the 28-year-old will be a key part of the club's future.
"The circumstances that we're in right now aren't the perfect scenario for him right now," Francona said. "And I told him that. And he knows that. But that doesn't mean he's not a huge part of our future. We're going to do the best we can in this last month, knowing that next year is really [his] target."
Francona added that he was impressed with Tomlin's composure and the way he goes about the game.
"You know you're going to get every last ounce of whatever he has," Francona said. "You know he's going to pound the strike zone, work quick and give you an honest day's effort. There's a lot to be said about that."
Manny Randhawa is an associate reporter for MLB.com. This story was not subject to the approval of Major League Baseball or its clubs.