Francona resisting urge to 'overmanage'
Francona resisting urge to 'overmanage'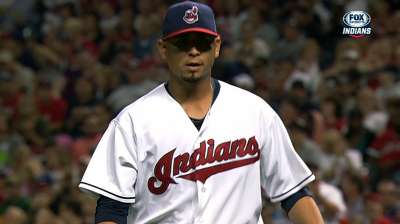 CHICAGO -- With a bullpen that had a 3.28 second-half ERA going into Friday's contest against the White Sox, Indians manager Terry Francona said he had to resist the urge to use his relievers too early or too often with his club chasing a playoff berth in the final weeks of the season.
"It's something that I really fight," Francona said. "I think that when you don't give your starter a chance as long as their stuff looks OK, I think you're just asking for trouble. You can overmanage in September, I think, and get yourself in trouble.
"So what we try to do is kind of stick to a formula. When we have the lead, we stay true to form, and when we're down, we try to mix and match with guys that are coming up. And you try to keep yourself in the game and get a look at guys."
Francona added that when the club was trailing, he tried to give his go-to relievers some rest.
"When you're losing, you try to stay in a game and stay away from the guys that you've gone to for most of the year," he said. "That's kind of the formula."
Manny Randhawa is an associate reporter for MLB.com. This story was not subject to the approval of Major League Baseball or its clubs.