Salazar working to minimize pitches
Salazar working to minimize pitches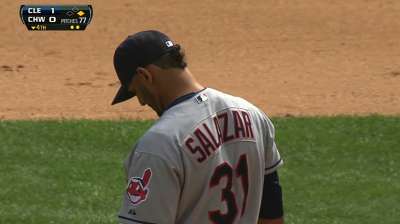 CHICAGO -- Indians starter Danny Salazar is averaging 12 strikeouts per nine innings pitched, but the rookie flamethrower isn't necessarily trying to strike out opposing hitters.
"I don't think about striking guys out too much," Salazar said. "My main goal is to attack. My fastball is my best pitch, and I use it and they [often] miss it."
Salazar -- who is on an 80-pitch limit per start after having Tommy John surgery on his elbow in 2010 -- has pitched a combined 7 2/3 innings over his last two starts. The right-hander said he's mindful of his pitch count and tries to study film to see if he can find ways to minimize the number of pitches.
"They have me on a pitch count right now, so that's why I come into the clubhouse and watch video to see what I'm doing, like whether I'm pulling myself a little bit to the side instead of going through my delivery," he said.
Salazar added that though more strikeouts can mean a higher pitch count, he likes to utilize his best pitch, which often causes opponents to swing and miss.
"If I'm throwing my fastball and they hit foul [after] foul and then they strike out, I don't want to throw an offspeed pitch and have them get a hit out of it," he said. "Sometimes I just don't want that because I know that if I miss [with a pitch], that's not good."
Salazar has high praise for his catchers, whom he is still getting to know, having made eight career starts in the big leagues.
"[Carlos] Santana and [Yan] Gomes are both great," he said. "I follow them and sometimes I shake them off, but that's normal. They both call a good game and each is a little bit different, with one calling more fastballs than the other one. But that's their style, and I like it."
Though it's unknown how he might be used if the Indians make it to the postseason, Salazar is excited to be a part of the Tribe's playoff push.
"Not only do you like to join the team because they're close to the playoffs, but this has always been my dream, to be up here."
Tribe manager Terry Francona said that it's still too early to forecast how Salazar might factor in come October if Cleveland makes the playoffs.
"[What we do with Salazar] would probably depend on who pitched last and that's so far ahead of where we are right now, but I hope we have to make that decision," Francona said.
Manny Randhawa is an associate reporter for MLB.com. This story was not subject to the approval of Major League Baseball or its clubs.