Pestano's performance affected by Classic, tendinitis
Pestano's performance affected by Classic, tendinitis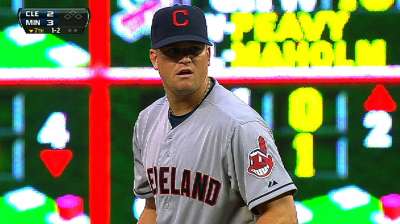 CHICAGO -- Reliever Vinnie Pestano, who posted a 2.57 ERA in 70 appearances for the Tribe in 2012, has struggled this season. He went into Sunday's series finale against the White Sox with a 4.19 ERA.
Manager Terry Francona said he thinks Pestano's rehab stint in Triple-A in August, as well as his participation in the World Baseball Classic prior to the season, may have affected his performance.
"I don't know if you can pinpoint one thing," Francona said. "I think the lack of finish on his fastball, and he's tried to find that, and it's probably cost him some location. I know he's frustrated.
"I do think when he was down [at Triple-A rehabbing from tendinitis in his elbow], I don't think that helped. I don't know whether he protected the elbow. I don't know if Vinnie quite even knows. And I don't think the WBC helped. Like we worried about, he geared up awfully fast and that game he threw [in the Classic] he was sitting at 93-94 mph. It's just too early."
Francona added that he's spoken with Pestano and told him that he might not return to form according to his own timeframe, but he's confident the Tribe's eighth-inning setup man will get back to where he was last season.
"I told him last week that this might not come on your timetable," Francona said. "But we'll get there."
Manny Randhawa is an associate reporter for MLB.com. This story was not subject to the approval of Major League Baseball or its clubs.