Aviles credits Francona with Tribe's success
Aviles credits Francona with Tribe's success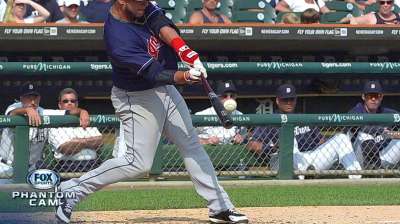 KANSAS CITY -- Indians infielder Mike Aviles played for manager Terry Francona while with the Red Sox three seasons ago, when Boston underwent an historic collapse over the last month that ultimately cost the manager his job. This September, Aviles has been with Francona as Cleveland tries to make a run at an American League Wild Card spot.
Whether it is a September slide or a run up the standings in the final month, Aviles said Francona features the same attitude and approach.
"He was cool during that, too," Aviles said of Boston's collapse from contention in Francona's final season with the Red Sox. "That was one of the reasons why I had an absolute blast playing for him the last two months in 2011. We were all frustrated, like, 'What's going on?' And our manager is calm, cool, had no worries. It was, 'Hey, I have trust in you. I have faith in you.' We could feel that."
Aviles, who serves as a super utility man off Cleveland's bench, was traded twice over the offseason. Boston traded him to Toronto, which later flipped him to the Tribe, along with catcher Yan Gomes, in exchange for pitcher Esmil Rogers. Francona played a key role in the Indians' targeting of Aviles as a backup shortstop and utility man this year.
In his first year with the Indians, and second with Francona, Aviles believes the manager has played a critical role for a team that has experienced drastic ups and downs.
"The big role too is just his demeanor," Aviles said. "There's been stretches in the season where we've been the worst team in baseball, and there's stretches where we've been the best team in baseball. ... Sometimes you get in situations where you're in a bad stretch and you're looking around at everybody on the team. Everybody's trying to get out of it, but you just don't know.
"Then you look at Tito and he's the same guy, joking around with you like nothing happened, like we didn't just lose 14-0 yesterday. You're like, 'You know what? If he's cool, then why am I stressing out?' I think his demeanor rubs off on everybody You see how cool, calm and collected he is. Maybe he's stressing out on the inside. I don't know. That's not what he portrays, and I think that's been a huge help for everybody."
Jordan Bastian is a reporter for MLB.com. Read his blog, Major League Bastian, and follow him on Twitter @MLBastian. This story was not subject to the approval of Major League Baseball or its clubs.