Asdrubal, Swisher getting hot is key for Tribe
Asdrubal, Swisher getting hot is key for Tribe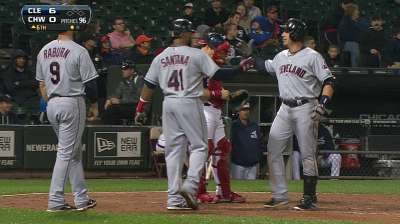 KANSAS CITY -- Throughout this season, Indians manager Terry Francona has stressed the importance of getting first baseman Nick Swisher and shortstop Asdrubal Cabrera going in the batter's box. So far in September, that duo has helped lead Cleveland's charge toward contention.
"For us to get where we wanted to, we know we needed them," Francona said. "Now, it seems like they're swinging a potent bat. That's nice to have. Every once in a while, you need a three-run homer. You can talk all you want about playing the game right, and we certainly try, but it's nice to spread a game out with a three-run homer."
Entering Monday night's game against the Royals, Swisher was batting .324 (12-for-37) with five home runs, 11 RBIs and a 1.162 OPS in his past nine games, while Cabrera was hitting .241 (7-for-29) with five homers, 11 RBIs and a 1.071 OPS in his last nine games. Their respective hot streaks cover Cleveland's last 10 contests, during which the team has gone 7-3 while hitting .274 with an .824 OPS and an average of 5.9 runs per game.
In the previous 31 games -- a stretch dating to Aug. 2, when the Indians had an eight-game winning streak snapped -- Cleveland hit .222 with a .649 OPS as a team, while averaging 3.3 runs per game in that span. Perhaps not coincidentally, Swisher and Cabrera hit .208 (.658 OPS) and .198 (.558), respectively, in that stretch.
Francona believes Swisher, who signed a four-year contract worth $56 million with the Indians in the offseason, put too much pressure on himself earlier this year.
"I think he was trying too hard," Francona said. "It's something you respect and you appreciate. It's the opposite of a guy getting a contract and laying back. He wanted so desperately to fulfill that. Sometimes you try too hard."
The manager added that Cabrera has handled his season-long struggles as well as a player can.
"I've been really impressed with Cabby all year," Francona said. "You can never tell if he's gets hits or not, and I mean that in a good way. He doesn't drag his head. It's been tough on him, I think. He's a good player and he just keeps playing. He doesn't want days off. I've been really impressed with that side of him."
Jordan Bastian is a reporter for MLB.com. Read his blog, Major League Bastian, and follow him on Twitter @MLBastian. This story was not subject to the approval of Major League Baseball or its clubs.