Indians are taking Giambi's message to heart
Indians are taking Giambi's message to heart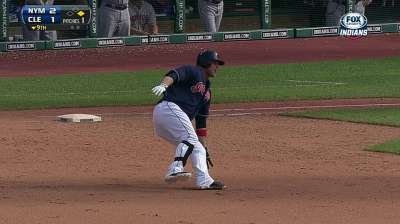 KANSAS CITY -- Veteran Jason Giambi called a team meeting before the Indians headed on their road swing through Chicago and Kansas City. His message was simple: the time had come to set aside personal goals in favor of focusing on the bigger picture.
Right now, reaching the postseason is more important than any personal statistics.
"It's about the team right now," Giambi said on Wednesday. "In that message, I was saying, 'Listen, at the end of the year, if you get into the playoffs, nobody cares whether you hit. Nobody cares.' If a guy has won a World Series, I can't tell you what he hit that year. I can tell you he has a World Series ring."
Entering Wednesday's game against the Royals, the Indians sat just a half-game back of Texas and Tampa Bay for one of the American League's Wild Card spots. Cleveland has leaned heavily on its pitching staff, and has overcome some season-long slumps from an assortment of hitters.
Center fielder Michael Bourn, who is having a down year by his standards, took Giambi's message to heart. After Tuesday's 5-3 comeback win, in which Bourn contributed a run-scoring triple and a solo home run, the outfielder brought up Giambi's speech and stressed its importance.
"Individual stats, for the most part, they are what they are at this point of the year," Bourn said. "That doesn't really mean anything to anyone anymore - for real. We're just trying to play to get to the playoffs. ... We listen when he talks. He's been around for a long time -- 19 years. It's the truth. You're not playing for yourself now."
Giambi called Cleveland's roster the best team he has been a part of during his storied career, meaning success is based on the sum of all parts rather than one or two individuals.
"We don't have that Chris Davis. We don't have that Miguel Cabrera," Giambi said. "This is probably the ultimate team that I've ever played for, where there wasn't one guy more important than another."
Jordan Bastian is a reporter for MLB.com. Read his blog, Major League Bastian, and follow him on Twitter @MLBastian. This story was not subject to the approval of Major League Baseball or its clubs.