Kipnis' recent struggles may be due to fatigue
Kipnis' recent struggles may be due to fatigue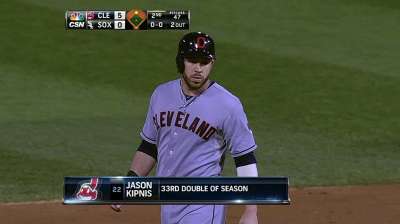 CLEVELAND -- Jason Kipnis did not record a hit in Kansas City earlier this week. For the second baseman, it was a frustrating series that fit right into a frustrating second half, at least as far as personal numbers are concerned.
After July 21, when Kipnis went 2-for-4 with a home run and three RBIs, he had a .303 batting average and .913 OPS. In 52 games since then, Kipnis is hitting .231 with a .628 OPS.
The reason for Kipnis' struggles could simply be a matter of fatigue. After all, the first-time All-Star has played in all but 13 of Cleveland's games before Thursday.
"I think he might be a little bit tired," Tribe manager Terry Francona said Thursday. "He skipped BP yesterday with my blessing. He plays pretty hard, and he's pretty hard on himself. I think he just got a little worn out. He hit that ball to center field pretty good yesterday. He'll be fine."
In 139 games, Kipnis has a .276/.360/.448 slash line with 17 home runs, 78 RBIs and 28 stolen bases. Over 16 September games, he has a .218 average and .622 OPS, with just one homer and three RBIs.
On Thursday, the notion of Kipnis hitting a wall in the second half of last season was put to Francona.
The manager responded: "I think that wall's going to fall here pretty soon."
Mark Emery is an associate reporter for MLB.com. This story was not subject to the approval of Major League Baseball or its clubs.