Francona trusts Perez in dicey late-game situations
Francona trusts Perez in dicey late-game situations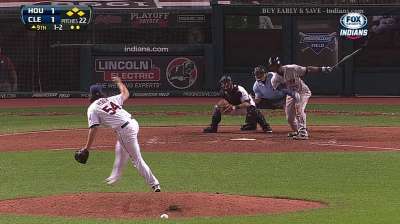 CLEVELAND -- Indians closer Chris Perez is no stranger to drama. In his four-year run as Cleveland's closer, there have been plenty of baserunners mixed in with the saves.
This season, Indians manager Terry Francona has gotten his first look at Perez's high-wire act.
It happened again against Houston during Thursday's 2-1 win, when Perez loaded the bases with one out in the ninth inning and the game tied. After a mound visit by pitching coach Mickey Callaway, Perez settled down, and struck out Brett Wallace and L.J. Hoes to escaped unscathed.
"Once he wavered, he reeled it in and made some really good pitches," Francona said. "He has a way of doing that. Everybody might be nervous, except for him. Because when he gets in that position, it seems like he makes his best pitches."
The numbers back up Francona's assumption, too.
Entering Friday, opposing batters had a .809 OPS against Perez with no runners on base compared to a .695 OPS with runners on. In situations with a runner on only first or second base, batters had gone a combined 12-for-35 (.343) against Perez. In all scenarios that included a runner on third base, however, hitters were a combined 1-for-19 (.053) versus the closer.
On the season, Perez has a 3.42 ERA with 25 saves in 29 opportunities.
Does Francona get nervous when Perez puts runners on base in critical situations?
"You know what? You're nervous because of the situation," the manager admitted. "But I mean, I felt like he was going to figure out a way to get out of it [on Thursday]."
Jordan Bastian is a reporter for MLB.com. Read his blog, Major League Bastian, and follow him on Twitter @MLBastian. This story was not subject to the approval of Major League Baseball or its clubs.