Carson calls walk-off 'pinnacle' of 12-year pro career
Carson calls walk-off 'pinnacle' of 12-year pro career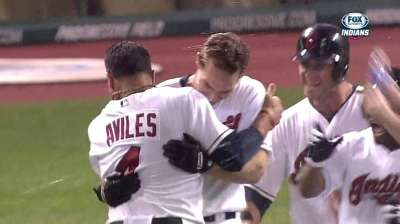 CLEVELAND -- Matt Carson will never forget the walk-off hit he provided for the Indians on Thursday. The long-time Minor Leaguer will probably also remember the long night that followed thanks to the flood of phone calls and text messages he received.
"I didn't get a whole lot of sleep," Carson said Friday. "I was returning so many and was just trying to wind down from everything."
Carson then smiled.
"It's been great," he added.
Carson's game-winning single in the 11th inning Thursday pushed the Indians to a 2-1 victory against the Astros that ended with a mob swarming and jumping around the outfielder. The 32-year-old Carson was brought to Spring Training on a Minor League contract and spent most of the year at Triple-A Columbus before being called up to Cleveland on Aug. 28.
A dozen years in the Minors and four brief stints in the Majors led to Thursday's single for Carson, who enters Friday 7-for-9 with the Indians.
Indians manager Terry Francona was thrilled to see Carson come up big.
"Since he's been here, he's really provided a lot," Francona said. "He's gone in for defense. He's pinch-run. He's pinch-hit. He's been a part of what we're doing, and I think he's having the time of his life. And then, when he got the hit last night, it was like a little bit of justice, because he's played so long and has been such a good teammate and good person.
"To see him get mobbed by his teammates was pretty exciting."
After so many highs and lows over the years, Carson called Thursday's walk-off the "pinnacle" of his career.
"As long as I'm still playing the game, it can't be that low," said Carson, asked if he ever considered calling it quits. "We just had our third child, a little girl, in June. It's getting to that point. I'm 32 years old and I have three kids now. The thoughts do creep in, but as long as I can contribute and I feel like my body is able to play, I'm going to play as long as I can."
Jordan Bastian is a reporter for MLB.com. Read his blog, Major League Bastian, and follow him on Twitter @MLBastian. This story was not subject to the approval of Major League Baseball or its clubs.