Masterson to be used as reliever temporarily
Masterson to be used as reliever temporarily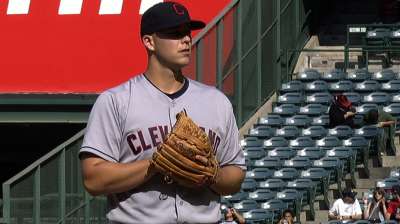 CLEVELAND -- Justin Masterson is inching closer to a comeback for the Indians, but in a different role than fans might expect. Cleveland's current plan is for its rotation leader to return temporarily as a reliever until he is deemed capable of handling a full workload.
If everything falls in place, and the Indians maintain their hold on one of the two American League Wild Card spots, Masterson could be built up enough to start again in the playoffs. The sinkerballer has been sidelined with a strained left oblique for nearly three weeks.
"He's excited about however I get to come back," said Masterson, referring to Indians manager Terry Francona. "I think it's nice that we're close to being able to say we have some extra firepower in this push and, Lord willing, we'll make the playoffs."
Francona indicated that Masterson is scheduled to test his side during a simulated game either following Sunday's game against the Astros or during Monday's off-day. Right now, Cleveland is leaning toward having the right-hander do the simulated game on the Progressive Field mound, helping the pitcher better simulate a game setting.
Following that mound workout, which would include at least two simulated innings, Masterson would likely work into a handful of games before the conclusion of the regular season.
"We'll see where that leads," Francona said. "I just think it's a little unrealistic to expect him to get deep into a game. ... We're recognizing who we're dealing with here. He's been our best pitcher all year. But he has thrown out of the bullpen, and he can impact us positively while he's also, hopefully, getting somewhat stretched out."
Masterson -- an All-Star for the first time this season -- is 14-10 with a 3.52 ERA in 189 1/3 innings (29 starts) this year. In an outing against the Orioles on Sept. 2, the right-hander exited after facing five batters due to pain in his left side. Masterson resumed throwing on Sept. 12 and has not experienced any setbacks since increasing the intensity of his workouts.
Francona, Masterson and pitching coach Mickey Callaway met on Saturday to discuss the pitcher's options.
"We're just trying to figure out the best way to help the team," Masterson said. "Tito kind of feels that's maybe in relief, and also the fact of -- since it's still early in the process -- keeping the workload in a sense down in some way, shape or form. That's still a tentative plan. It's a nice tentative plan, but it still leaves [things] open."
Jordan Bastian is a reporter for MLB.com. Read his blog, Major League Bastian, and follow him on Twitter @MLBastian. Mark Emery is an associate reporter for MLB.com. This story was not subject to the approval of Major League Baseball or its clubs.