Brantley's bat red-hot at just the right time for Tribe
Brantley's bat red-hot at just the right time for Tribe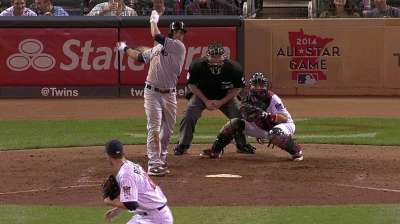 MINNEAPOLIS -- Michael Brantley was in the Indians' batting cage a few days ago when he spotted one of Carlos Santana's abandoned bats. Cleveland's left fielder picked it up, took a few swings and decided it felt good enough to use in a few games.
With his showing in Thursday's 6-5 win over the Twins, Brantley now has four consecutive games with three hits for the Indians.
Was Brantley about to credit the bat?
"Absolutely not," Brantley said with a laugh. "I just picked it up. It felt good in my hands. It was just sitting there. So I started swinging it and I said, 'Oh, that feels good, I'll start using it.' Sometimes you've just got to try it out. Every now and then you need a change."
Whatever works.
Over his past 10 games, Brantley is batting .500 (20-for-40) with two home runs, six runs scored and 10 RBIs. His streak of four straight games with at least three hits and one RBI is only the fourth of its kind by an Indians hitter, dating back to 1916. The only other Cleveland batters to accomplish the feat are Minnie Minoso (1959), Ken Keltner (1939) and Joe Vosmik (1935).
After going 3-for-5 against Minnesota, Brantley was batting .289 with 10 home runs and 72 RBIs through 148 games.
"The balls that I'm hitting hard are finding holes," Brantley said of his hot streak. "And the balls I'm hitting OK are still finding a hole. It's just good placement, along with good hitting. Any time that happens, it's going to be successful for anybody."
Brantley is just pleased he has warmed up offensively right now -- similar to Nick Swisher and Asdrubal Cabrera -- while the Indians are trying to lock down one of the American League's two Wild Card spots.
"It's awesome, because that's what we neeeded to do," Brantley said. "We all talked about it. It was time to step up and make sure that we handled our business, especially at home. Now that we're here in Minnesota, it's just take one game at a time. We're all pulling on the same rope. We're all backing each other up."
Jordan Bastian is a reporter for MLB.com. Read his blog, Major League Bastian, and follow him on Twitter @MLBastian. This story was not subject to the approval of Major League Baseball or its clubs.