Indians tired of hearing about easy closing schedule
Indians tired of hearing about easy closing schedule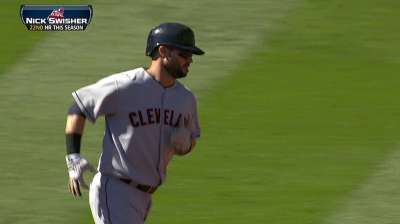 MINNEAPOLIS -- One time-tested approach for a team to put itself in position to contend for the postseason is to defeat the clubs it should beat. The Indians have taken that theory to the extreme this season, feasting on opponents that have a losing record.
While that is undoubtedly the case, Cleveland's players are tired of hearing about their advantageous September schedule, which included series against the Astros, White Sox and Twins to end the season. Nick Swisher spoke up for his club when asked about the Tribe's recent slate.
"Why don't I just say this as a direct quote to everybody else," Swisher said. "No one was [complaining] about the schedule when we lost [94] games last year. That's enough of that schedule stuff, man. For real. You still have to win the games. No one was talking about scheduling when we were going through playing the Yankees, Boston, Detroit back to back. Nobody said anything then.
"Hey, if everybody feels that way, make it an even schedule. Make everybody play everybody the same amount of times so nobody can complain about it. You would like to think that a lot of people would be excited for an organization like us. We're kind of rejuvenated. We've got ourselves a new thing. If people want to hate on us for the last scheduling part, we can't control that. We didn't do the scheduling."
The Indians finished the season with a Major League-leading 56-18 record against teams with a losing record. Cleveland posted at least 20 wins in September for the first time since 1948 and earned a Wild Card berth due to its push over the past few weeks.
The Indians had a 30-8 record against the Twins and White Sox, who occupy the bottom two spots in the American League Central, respectively. That said, the AL Central champion Tigers posted a 23-15 record against the same two teams. Texas, who is in the Wild Card mix, had a 32-6 combined record against the Astros and Angels.
"Your schedule is what your schedule is," Indians manager Terry Francona said. "You always show up and play who you're supposed to. By the time the season's over, you've played the same teams, besides Interleague, where you sometimes get a bad draw. We caught Atlanta and Cincinnati, which wasn't a real great draw.
"You know what? You play who you play when they tell you to play, and you try to win."
Jordan Bastian is a reporter for MLB.com. Read his blog, Major League Bastian, and follow him on Twitter @MLBastian. This story was not subject to the approval of Major League Baseball or its clubs.