Umpires reverse third-strike call in first inning
Umpires reverse third-strike call in first inning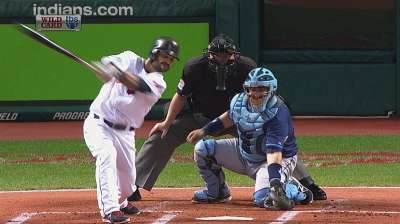 CLEVELAND -- It only took until the fifth batter of the game for a disputed call in Wednesday's American League Wild Card Game between the Indians and Rays.
Rays right-hander Alex Cobb threw a 2-2 fastball to Indians first baseman Nick Swisher that was fouled back to catcher Jose Molina, who caught the ball just before it hit the dirt.
Home-plate umpire Gerry Davis asked third-base umpire Greg Gibson for help and Gibson ruled the ball hit the ground for a foul ball, but Rays manager Joe Maddon came out to argue that Molina caught the foul tip, which should've been a strikeout for the second out of the inning.
The umpires then met to discuss the play and ruled that Molina did catch the foul tip, handing Swisher the strikeout. Indians manager Terry Francona came out to discuss the play, but it was upheld as a strikeout for Cobb, who was able to get Jason Kipnis to ground out softly back to the mound to end the first inning.
Rhett Bollinger is a reporter for MLB.com. Read his blog, Bollinger Beat, and follow him on Twitter @RhettBollinger. This story was not subject to the approval of Major League Baseball or its clubs.