Indians add five players to 40-man roster
Indians add five players to 40-man roster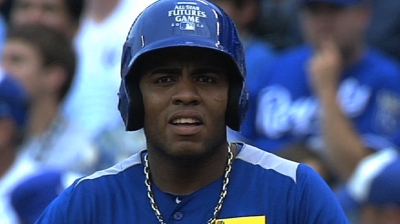 CLEVELAND -- It is not a deadline that generates much national attention, but it is a key day on the calendar for many players striving to reach the big leagues.
Wednesday marked the deadline for teams to add eligible players to 40-man rosters in order to protect them from exposure to December's Rule 5 Draft. First baseman Jesus Aguilar headlined a select group of Cleveland's prospects who made the cut, putting them one step closer to the Major League stage.
The Indians purchased the contracts of Aguilar, outfielder Carlos Moncrief and right-hander Austin Adams from Double-A Akron, infielder Erik Gonzalez of high Class A Carolina and right-hander Bryan Price of Triple-A Columbus. All of the players on the 40-man roster will be in camp with the Indians during Spring Training.
"There were a lot of tough decisions," Indians general manager Chris Antonetti said. "We felt there were another handful of guys who were very deserving of being on the roster, but unfortunately, we only have so many spots that we can use to protect guys."
In order to fit all five players on the roster, the Indians designated Cord Phelps for assignment, giving the team 10 days to trade or release the infielder, or send him outright to a Minor League affiliate, if he clears waivers. Cleveland's 40-man roster is currently at capacity.
When the Indians finalize their two-year contract with free agent David Murphy -- possibly by the end of the week -- the team will need to clear a spot on the roster for the outfielder.
Not all players in a farm system are eligible for exposure to the Rule 5 Draft, which is held annually at Major League Baseball's Winter Meetings.
Players first signed at age 18 must be added to 40-man rosters within five seasons or they become eligible to be drafted by other organizations through the Rule 5 process. Players signed at 19 years or older have to be protected within four seasons. Clubs pay $50,000 to select a player in the Major League phase of the Rule 5 Draft, slated to take place on Dec. 12. If that player doesn't stay on the 25-man roster for the full season, he must be offered back to his former team for $25,000.
In other words, an international player or high school draftee signed in 2009, assuming they were 18 or under as of June 5 of that year, must be protected. A college player taken in the 2010 Draft is in the same boat.
Among the Rule 5 eligible players for the Indians are right-handers Joseph Colon, Tyler Holt, Bryce Stowell, Enosil Tejeda and Giovanny Urshela; lefties Elvis Araujo, Matt Packer and Giovanni Soto; first baseman Chun Chen; outfielder LeVon Washington; and catcher Alex Monsalve. Washington (No. 13) and Monsalve (No. 18) are among MLB.com's Top 20 Indians prospects.
The 23-year-old Aguilar -- listed as the Indians' 17th-best prospect by MLB.com -- established an Akron franchise record with 105 RBIs in 2013. The first baseman also hit .275 with 16 home runs and 66 runs scored in 130 games. Through 33 games in the Venezuelan Winter League this offseason, Aguilar was batting .313 with 10 homers and 31 RBIs.
"He made a lot of progress from last year to this year," Antonetti said of Aguilar. "The Double-A level is always a good test, especially for position players, and Jesus did a really good job of anchoring that lineup. He's continuing his work down there in winter ball and is off to an extraordinary start."

Out of necessity due to team injuries, Aguilar has actually played some third base in Venezuela this winter. Antonetti made it clear that, while the organization has an open mind, Aguilar is still viewed as a prospect for first base.

"It's always good to increase your versatility," Antonetti said. "It wasn't something that was top-of-mind for us as the season ended. But the fact that he's gotten an opportunity and experience down in winter ball, it's something we'll look to see and maybe continue as we head to Spring Training. But right now, we still view him primarily as a first baseman."
Moncrief and Adams also enjoyed standout seasons with Double-A in 2013. Moncrief -- a converted pitcher -- hit .284 with 17 homers, 26 doubles and 75 RBIs in 129 games, while posting an .824 OPS. Adams, who missed all of 2012 while recovering from right shoulder surgery, posted a 2.62 ERA with 76 strikeouts, 29 walks and a .215 opponents' average in 45 games (55 innings).
Gonzalez, 22, appeared in 132 games between stints with low Class A Lake County and Carolina last season, hitting .254 wth nine homers, 32 doubles, 12 triples, 75 runs and 76 RBIs. The versatile infielder manned third base (65 games), shortstop (55), second base (13) and first base (one) in his first full professional season.
The 27-year-old Price posted a 2.04 ERA in 47 games between Akron and Columbus last season. Across 75 innings, the right-hander compiled 92 strikeouts against 16 walks, and held batters to a .206 average. Price was acquired, along with Justin Masterson and Nick Hagadone, from the Red Sox in the July 2009 trade for Victor Martinez.
Phelps played in only 65 games during an injury-marred 2013 season at Triple-A and has a .159 average in 53 career games in the big leagues (2011-13) with the Indians.
Jordan Bastian is a reporter for MLB.com. Read his blog, Major League Bastian, and follow him on Twitter @MLBastian. This story was not subject to the approval of Major League Baseball or its clubs.