Carrasco expected to win rotation spot
Carrasco expected to win rotation spot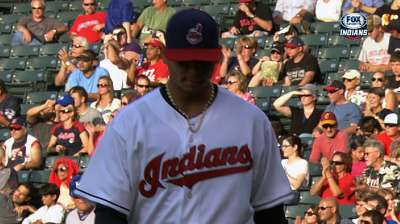 LAKE BUENA VISTA, Fla. -- The Indians believe the time has come for Carlos Carrasco to seize a spot in the rotation.
Indians manager Terry Francona, pitching coach Mickey Callaway and bullpen coach Kevin Cash met with Carrasco on Tuesday at the Winter Meetings to deliver that message. The right-hander is out of Minor League options and will be given every opportunity to win a spot on the starting staff during Spring Training.
"We envision him starting a lot of games for us," Francona said on Wednesday. "That's the goal, to come in, be a starter and log a bunch of innings, and kind of take off. I think we all feel it's his time to take the ball and go."
Carrasco, who will turn 27 in March, returned from Tommy John surgery on his right elbow last season and posted a 6.75 ERA in 15 games (1.32 ERA in eight relief apperances and 9.00 ERA in five starts). In 16 games for Triple-A Columbus, he went 3-1 with a 3.14 ERA and 79 strikeouts in 71 2/3 innings.
In 2011, Carrasco posted a 4.62 ERA in 21 starts for Cleveland before being sidelined with the elbow injury.
"He's done it at the Triple-A level and he's done it at times at the Major League level," Francona said. "Part of it is us giving him the opportunity that, when he does get roughed up, he's not going to be taken out of the rotation. We just need to let him pitch, and when he has a hiccup, know it's a hiccup and just get him back out there. His stuff is so impressive and his delivery is so good. He should log a lot of innings."
Indians general manager Chris Antonetti offered the same message.
"He's big, he's physical, good delivery, he's got good stuff," Antonetti said. "It's just putting all those pieces together and going out and pitching. I think [last season], unlike past years, there was some question of, would he be on the team or wouldn't he be on the team? He knows this year he's going to be on the team going into camp. So he can just focus on preparing for the start of the season."
As things currently stand, Justin Masterson, Corey Kluber, Danny Salazar and Zach McAllister are viewed as virtual locks for the rotation. Carraso, Josh Tomlin and Trevor Bauer have been mentioned for the fifth spot, but Carrasco and Tomline also have the ability to shift into a relief role, if needed.
Jordan Bastian is a reporter for MLB.com. Read his blog, Major League Bastian, and follow him on Twitter @MLBastian. This story was not subject to the approval of Major League Baseball or its clubs.