Francona eyeing in-house candidates to fill rotation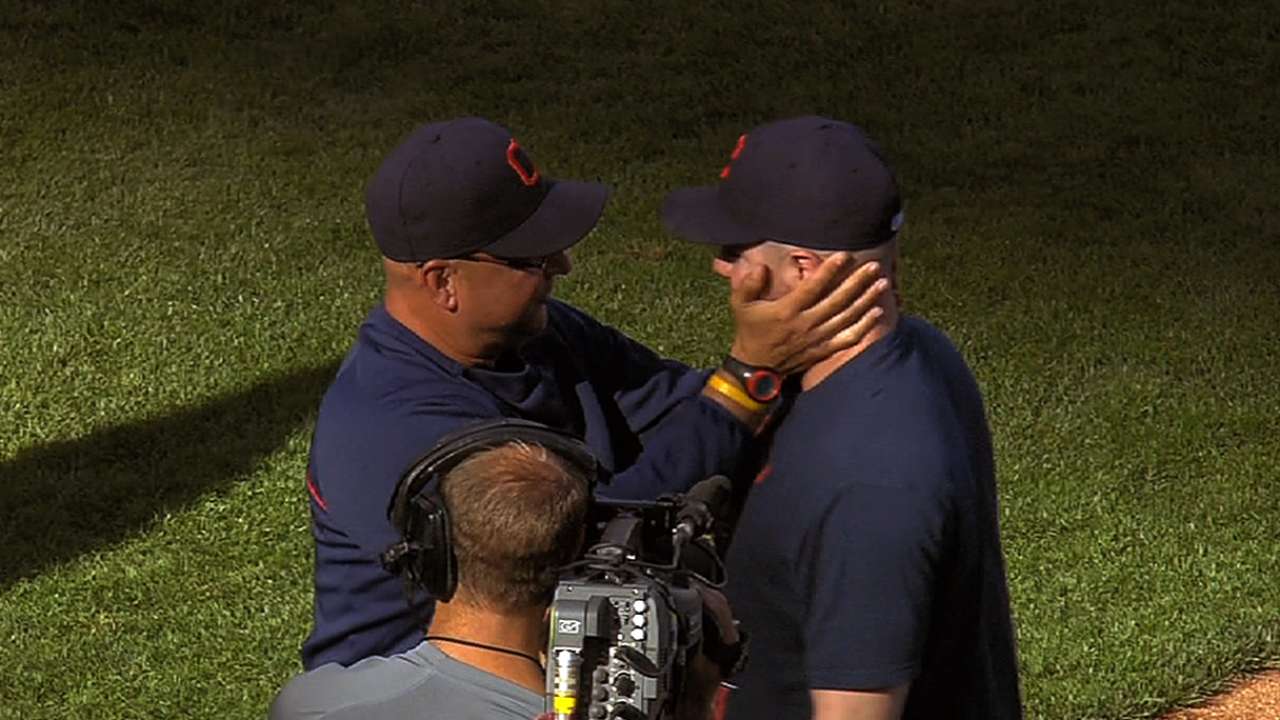 CLEVELAND -- There is uncertainty at the back end of the Indians' rotation and the free-agent market still includes some big-ticket arms. Cleveland could spend money to bring in an experienced veteran or give a few in-house options a chance at winning the job.
Indians manager Terry Francona sounds content with the latter scenario.
"I think we're pretty settled," Francona said on Wednesday. "I know [general manager Chris Antonetti] is always trying to make us better, but if we go to Spring Training tomorrow, I'm fine. ... When you start looking at the dollars you can allocate for pitching, I think we'd rather see [the internal] guys pitch."
The Tribe's rotation projects to include Justin Masterson, Corey Kluber, Danny Salazar and Zach McAllister, with Carlos Carrasco, Josh Tomlin, Trevor Bauer and Shaun Marcum entering the spring as the main candidates for the final job. Last season's No. 2 starter, Ubaldo Jimenez, remains a free agent, and lefty Scott Kazmir left to sign a two-year, $22-million deal with the A's.
Francona feels the arms already in the fold can make up for the innings lost.
"We have guys in place that we want to see either pitch or play," Francona said. "We've got [Yan] Gomes behind the plate now. We want to see him. We want to see Carlos Carrasco pitch. We want to see Josh Tomlin pitch. So rather than go out and spend some money on guys, we want to see our guys.
"We have Corey Kluber, Zach McAllister and Danny Salazar, hopefully, for a full year. So we have guys in place. We made some moves last year with [Nick Swisher] and [Michael Bourn] and we knew that those were probably our moves. Now, we just have to go see how well we can play."
Francona is especially excited about Salazar.
"Like you can't believe," said the manager. "The sky is kind of the ceiling for Danny, but you don't want to make too many proclamations on a guy that's only made eight or 10 starts. But I can't wait to see him log 34 or 35 starts."
Asked if the Indians might still be in the mix to re-sign Jimenez -- should the asking price drop closer to Cleveland's range -- Francona played it coy.
"That's probably better suited for Chris," Francona said. "I'm not comfortable talking about the free agents who are out there, because they're not technically our players right now. I agree that Ubaldo was fantastic in the second half of the year."
Jordan Bastian is a reporter for MLB.com. Read his blog, Major League Bastian, and follow him on Twitter @MLBastian. This story was not subject to the approval of Major League Baseball or its clubs.