Righty Tomlin loses arbitration hearing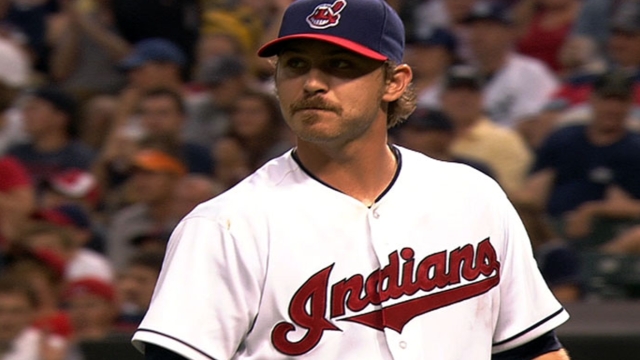 GOODYEAR, Ariz. -- The Indians always prefer to avoid arbitration with their players, but the club has made it clear this year that it will go to a hearing, if necessary.
On Saturday, MLB.com confirmed that Indians pitcher Josh Tomlin lost his case against Cleveland, meaning he will earn $800,000 in the upcoming season. Tomlin, who was eligible for arbitration for the first time this winter, had been seeking $975,000 leading up to Friday's hearing.
With the arbitration panel's decision now known, Tomlin's focus can return to the mound.
"I'm very happy that it's over with," Tomlin said. "Now, all my focus and energy is straight to baseball and helping this team win as many games as we can."
This spring, Tomlin is one of five primary candidates for the fifth rotation spot, along with Carlos Carrasco, Shaun Marcum, Trevor Bauer and Aaron Harang. Tomlin was a key part of Cleveland's starting staff a couple seasons ago, but the right-hander underwent Tommy John surgery in August 2012 and spent most of last season recovering from the procedure.
Tomlin, 29, was limited to just one September appearance (two innings) with the Indians last year, but went 2-0 with a 1.65 ERA in 27 1/3 Minor League innings, which included 21 strikeouts and no walks. Tomlin had rehab stops with four affiliates before joining the Tribe's bullpen for the stretch run.
If he does not win a rotation job, Tomlin might be an option for the bullpen again.
"I love the competition," Tomlin said. "I think it makes everybody that's competing for that spot better. Whether you end up in the bullpen or whether you end up in that fifth spot, it is what it is. You compete your butt off and you try to do the best you can. For going into the season, it makes you that much better and that much sharper. I think it's good for everybody."
Tomlin's best season came in 2011, when he went 6-1 with a 2.41 ERA in his first nine turns before finishing the year 12-7 with a 4.25 ERA across 26 starts (165 1/3 innings). In parts of four seasons with Cleveland, the right-hander has gone 23-19 with a 4.92 ERA in 60 games (54 starts).
Cleveland also won a hearing against reliever Vinnie Pestano, who will earn $975,000 this season after asking for $1.45 million. If needed, the Indians have a hearing scheduled Thursday for starter Justin Masterson ($11.8 million against $8.05 million). Prior to this year, the Indians had not gone to a hearing with a player since 1991.
"For me, it's just separating the on-field stuff from the business side of it," Tomlin said. "Once you separate that, you understand you're going into it for business reasons alone. It's just a difference of opinions and you let someone else handle it. That way there's not any kind of animosity."
Jordan Bastian is a reporter for MLB.com. Read his blog, Major League Bastian, and follow him on Twitter @MLBastian. This story was not subject to the approval of Major League Baseball or its clubs.