Herrmann wants to compete in return from surgery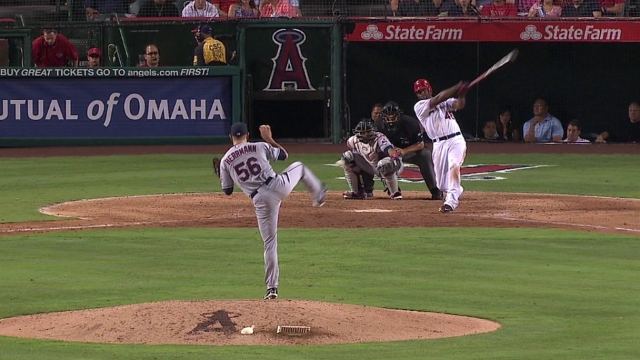 GOODYEAR, Ariz. -- Frank Herrmann can be excused for missing his spots with his fastball during the early portion of his latest mound workout. The Indians reliever was a little too amped over facing hitters for the first time in nearly a year.
"It felt great," Herrmann said Sunday. "I would say my first six or seven pitches were up in the zone, just from having that extra adrenaline. But then I was kind of able to lower my sights and get back in the groove. It felt great. It's competing again. Being able to compete for the first time in a year was awesome."
Herrmann faced a couple of hitters during a mound session Saturday and felt great one day after testing out his surgically repaired elbow. Last March, when the right-hander hoped to be vying for a spot in Cleveland's bullpen, he injured the joint and needed Tommy John surgery to fix the damage.
Almost one year later, Herrmann is once again hoping to work his way into the mix for the Tribe's bullpen.
"Until they tell me otherwise, that's my goal," Herrmann said. "Who knows? I understand the process. For me, I'm looking to have a career. I'd like to, ideally, pitch for six or seven more years. So I'm not going to blow it out for an arbitrary April 1 date, but I'd certainly like to be in the competition."
The current plan for the 29-year-old Herrmann -- a member of Cleveland's relief corps for parts of the 2010-12 seasons -- is to have extra days off between bullpen workouts. Barring any setbacks, the right-hander projects to make his Cactus League debut in early- to mid-March (likely around the one-year anniversary of his surgery).
"'Gradual' is the right word," Indians manager Terry Francona said. "We have just tried to reiterate again and again with him that it has to be a process. He is doing great, but it has to be a build up to hitters, and a build up to a game. He needs a certain amount of bullpens, so he will be throwing in games a little later. He's probably stronger than anyone in camp, but there's a way to do it."
In his Major League career, Herrmann has posted a 4.26 ERA with a 1.33 WHIP in 95 games for the Indians, but he felt he took a major step forward in 2012. That year, the righty added a curveball to the mix, along with his fastball and split-change, and fashioned a 2.33 ERA with 14 strikeouts and four walks in 19 1/3 big league innings.
That progress made the injury last spring even more frustrating, but the silver lining was the timing of the operation.
"It was a tough decision," Herrmann said. "But with the timing of it, I wanted to give myself the best chance possible to be ready for this season. ... There's a process. The Indians have a done a tremendous job with me so far. It's amazing. This surgery is so down to a science now that there's a reason they do things the way they do things. I completely put it in their hands."
Jordan Bastian is a reporter for MLB.com. Read his blog, Major League Bastian, and follow him on Twitter @MLBastian. This story was not subject to the approval of Major League Baseball or its clubs.