Masterson cites why he'd sign short-term pact
Indians righty loves playing for Francona, embraces role as leader of rotation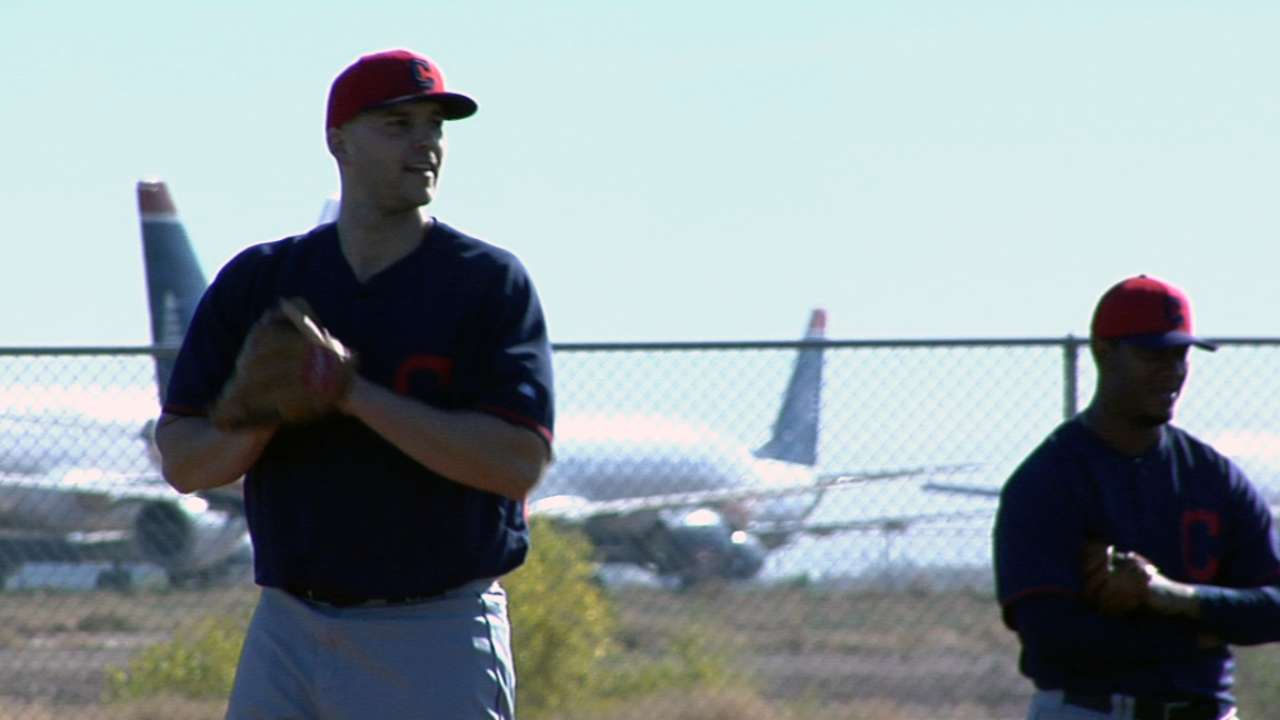 GOODYEAR, Ariz. -- There are millions of reasons for Justin Masterson to take his talents to the free-agent market next offseason, but the Indians rotation leader also sees plenty of reasons to consider sticking around with Cleveland for a few more years.
That is why Masterson might be willing to sign a shorter-term contract with the Tribe, rather than demanding an extension similar to the six-year, $105-million pact Homer Bailey signed with the Reds earlier this spring. Masterson just wants a fair deal, even if that includes agreeing to a three- or four-year extension to stick around.
"It is a challenging situation," Masterson said on Wednesday morning. "Especially for me. [I'm] not doing this because we need to get the most money ever. We also think about others who may come behind us. There are a lot of different factors you try to work in. Are we being true to our value or are we skewing it?"
This past weekend, Masterson's camp presented what it felt was a fair deal to the Indians and the pitcher is waiting for the club to counter. When Bailey signed his long-term deal with Cincinnati, it seemed a foregone conclusion that Masterson -- comparable to the Reds righty in both service time and statistics -- would go to free agency next winter.
At least in terms of contract length, Masterson now appears willing to give Cleveland a discount. The big right-hander loves pitching for manager Terry Francona, has embraced being a leader and mentor for the rotation and his growing family has found a comfort level in Cleveland.
Masterson said those kind of factors "become increasingly important."
Masterson added that there is something to be said for showing commitment to a city that has seen plenty of stars leave over the years. Francona brought his two World Series rings to Cleveland two offseason ago, when Nick Swisher and Michael Brantley also joined the team on long-term deals as free agents. This spring, Brantley inked a five-year extension to stay with the Tribe.
"In general," Masterson said, "when you have those commitments on certain teams, it does show, 'Hey, I want to be here.' Not only to the fans, but to other people. People want to come here. Why do they want to go there? Now you have people thinking, 'Hmm, what it is it about that place?' There can be that aspect. Maybe not, but there is that possibility."
Jordan Bastian is a reporter for MLB.com. Read his blog, Major League Bastian, and follow him on Twitter @MLBastian. This story was not subject to the approval of Major League Baseball or its clubs.