Tomlin's focus on comeback, not competition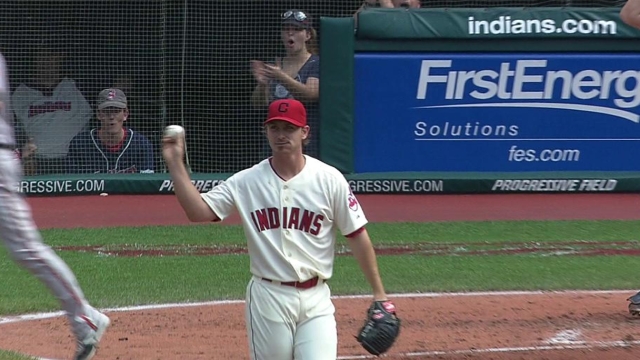 GOODYEAR, Ariz. -- The box score shows that Josh Tomlin surrendered two runs in his outing against the White Sox on Tuesday afternoon. What it does not show is that the Indians starter located the pitch how he hoped on the hit that cost him.
All things considered, Tomlin felt he showed improvement in his three-inning appearance, and Indians manager Terry Francona echoed that assessment. Sometimes, good pitches get hit, and that is what Tomlin said happened when Chicago first baseman Jose Abreu delivered a two-run double in the third inning.
"He was really strong," Tomlin said Wednesday morning. "I threw that pitch kind of where I wanted it. I wanted to try to go inside on his hands a little bit and just try to show him that inside part of the plate. A guy like that, he can probably get extended on some balls and hit them a long way.
"So I tried to get in there and bust in on his hands. He did a good job of staying inside of it and hit it to right field. A sitution like that, you've just got to tip your cap and say you got beat. And I got beat by that pitch [Tuesday]."
Tomlin, 29, focused on the positives of the outing. The right-hander became the first Cleveland starter to log three innings in an appearance and, more importantly, he felt great Wednesday. Tomlin said he was happy with how he commanded the inside part of the strike zone against righties and felt he made strides with his cutter.
Overall, Tomlin was charged with two runs on three hits and ended with two strikeouts and one walk.
"Actually, [he was] really good," Francona said. "I think the kid Abreu is going to be good. He took some real good swings and he kind of fought that one off for that double. But I thought Josh was down and crisp and I thought better than the last outing."
Tomlin is competing against Aaron Harang, Carlos Carrasco and Trevor Bauer this spring for the lone vacancy in the rotation. If working as a starter is not an option, Tomlin might also be a candidate for a bullpen role. Last year, he logged just two September innings for the Tribe after returning from Tommy John surgery on his right elbow.
Tomlin said he is concentrating on his own comeback instead of the rotation race.
"I don't look at what they're doing by any means," Tomlin said. "I think you go out there and you're competing against yourself a little bit. You go out there and compete, but you want to do better the next time out or get sharper the next time out. ... I don't really look at what Harang or Crrasco or anybody else is doing. I wish them the utmost success. They're still your teammates."
Jordan Bastian is a reporter for MLB.com. Read his blog, Major League Bastian, and follow him on Twitter @MLBastian. This story was not subject to the approval of Major League Baseball or its clubs.