Hagadone learns lesson after being caught off guard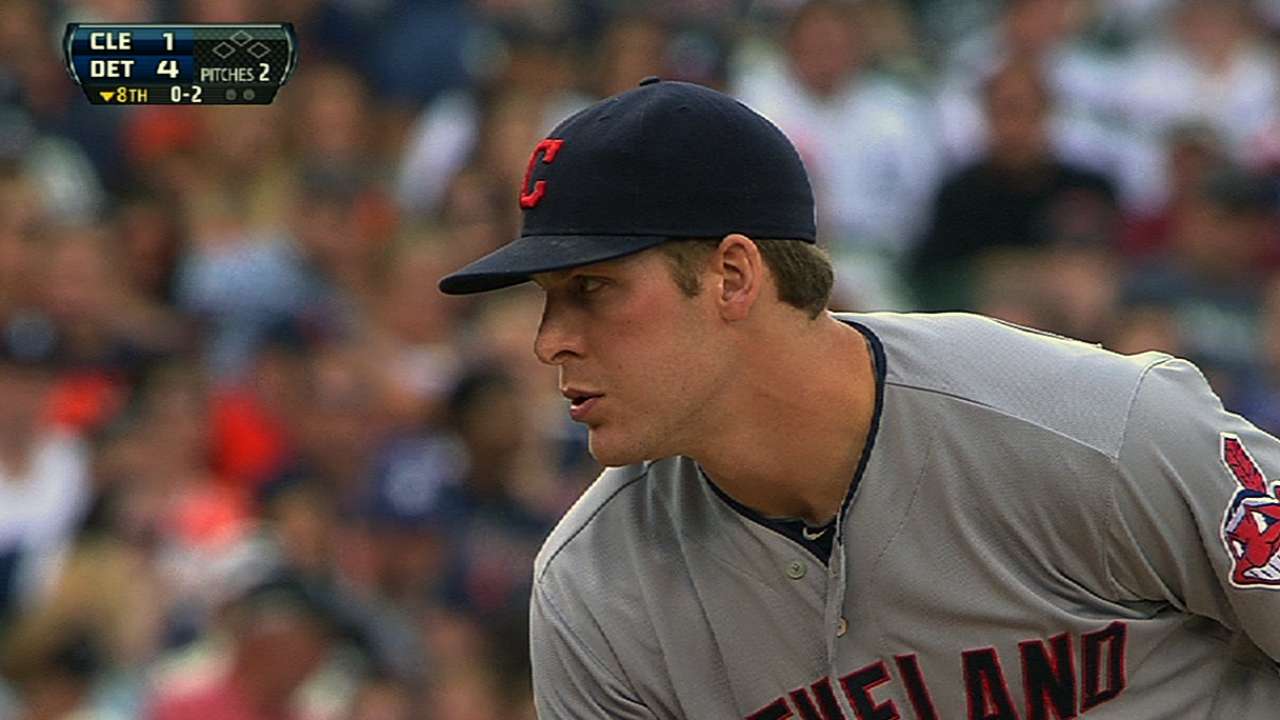 GOODYEAR, Ariz. -- Indians left-hander Nick Hagadone was caught off guard when the bullpen phone rang and he was told to warm up during the first inning of Wednesday's game against the Mariners. He was umprepared to take the mound and the results on the field backed that up.
On Thursday morning, Hagadone said he learned a valuable lesson.
"I was a little surprised," Hagadone said. "But, in the end, I'm a reliever, so that's on me for not being prepared to go in. From now on, I will be prepared when my name is called. It's the first inning. In Spring Training, there's an order and we went away from it. But that shouldn't matter. That's on me."
Hagadone, who is fighting for a spot in the bullpen this spring, said he was expecting to enter the contest a few innings later. After Cleveland right-hander Travis Banwart reached 35 pitches and loaded the bases, though, Indians manager Terry Francona altered the plan.
With two outs, Hagadone took over on the hill, walked in one run, threw a wild pitch and issued one more free pass before escaping the inning.
"You want your guys to be prepared all the time," Francona said. "That's the hope [that Hagadone learned something]. I guess we had already hoped he was there. It's not perfect, but if he learns from that on March 5, we can live with that. I'd rather it be March 5 than April 5."
The 28-year-old Hagadone, who had a 5.46 ERA in 36 games for the Indians last season, stayed in the game and followed the first-inning mess with a one-two-three showing in the second. Hagadone could not reverse what happened when he initially took the mound, but the lefty was happy to bounce back the way he did.
"For sure," the pitcher said. "I wanted to make sure that I went out there and at least had a good inning after the blowup. At least, I was able to come back strong a little bit."
Wednesday's outing aside, Francona has been pleased with the changes Hagadone has made to his delivery this spring. The big lefty has spread his feet out slightly at the start of his motion and had reduced the amount of movement overall.
"There's not as many moving parts," Francona said. "You can see he's not thinking through his delivery as much. He's cut down on some of the drills he used to do that didn't really impact his delivery. He's a big, strong kid and he throws up to 97 [mph]. He has margin for error. Plus, he's so downhill with the ball. If he can work ahead, hitters have to respect what he does."
Jordan Bastian is a reporter for MLB.com. Read his blog, Major League Bastian, and follow him on Twitter @MLBastian. This story was not subject to the approval of Major League Baseball or its clubs.