Raburn rests sore knee after crashing into wall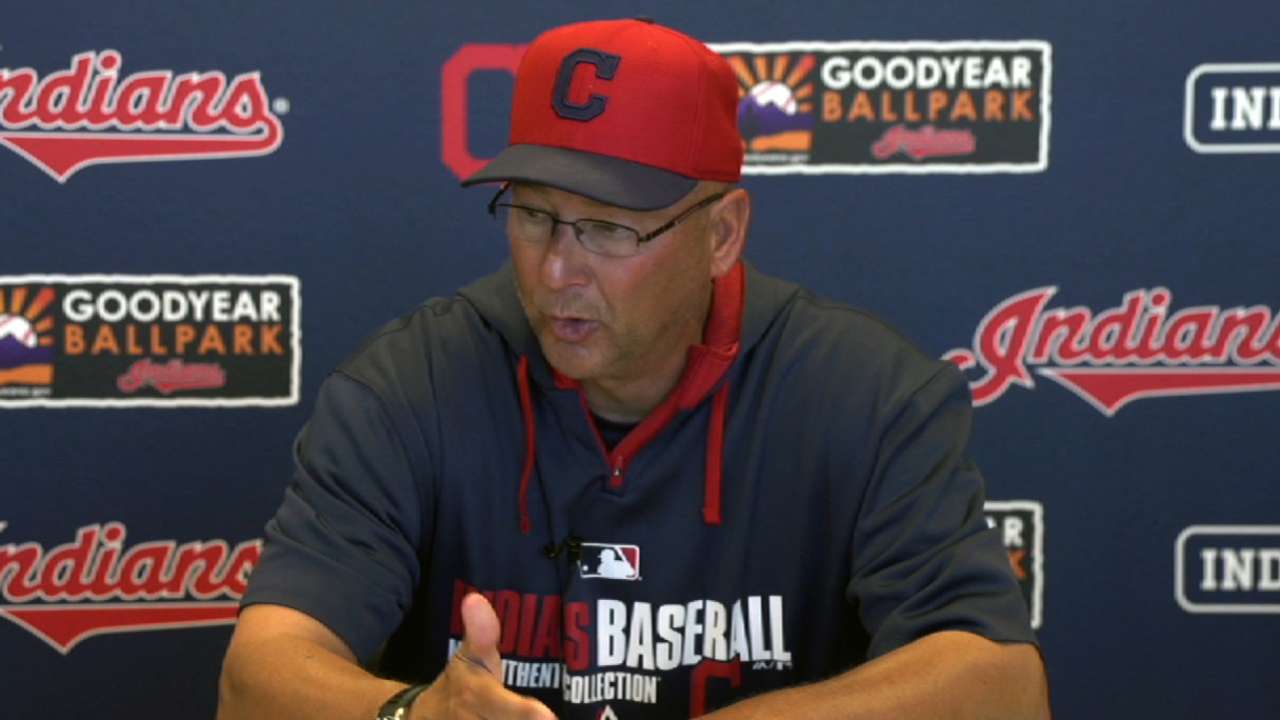 GOODYEAR, Ariz. -- After Ryan Raburn crashed hard into the right-field wall at Cubs Park on Friday afternoon, Cleveland's first concern was whether the outfielder had suffered a head injury. Raburn's lip was bleeding, and his left knee and right hand were sore, but his head was fine.
"I was like, 'There ain't nothing up there to hurt,'" Raburn joked on Saturday.
One day after his second-inning meeting with the wall, Raburn was still experiencing some discomfort in his knee. Indians manager Terry Francona planned on keeping the utility man out of Saturday's lineup anyway, but Raburn will likely sit out on Sunday as well.
For now, Raburn is considered day to day with a bruised left knee, which he had wrapped on Saturday morning.
"He's got a contusion," Francona said. "He's OK. Structurally, he's fine. He just whacked it."
On a home run off the bat of Chicago's Kris Bryant, the 32-year-old Raburn said he got turned around as he approached the wall. Back at the Tribe's spring complex, Raburn's locker neighbor is outfielder Matt Carson, who has the nickname "Crash" due to a handful of highlight-reel encounters with walls around the game.
"I'm never making fun of that guy again," Raburn said with a smile. "I don't have much room to talk now."
Francona said he wants to get Raburn back in the lineup as soon as possible, because the utility man is scheduled to leave Arizona some time next week to be with his wife for the birth of their child.
Raburn has hit .600 (6-for-10) with two doubles and two home runs this spring after hitting at a .272 clip with 16 home runs and 55 RBIs in 86 games for Cleveland last season. Raburn said that running into walls is nothing new for him, and he has no plans of changing his aggressive style of play.
"I think I took the brunt of it," Raburn said with a laugh. "But I think I put a little hurtin' on it, too, hopefully. Maybe it will move out of the way the next time."
Jordan Bastian is a reporter for MLB.com. Read his blog, Major League Bastian, and follow him on Twitter @MLBastian. This story was not subject to the approval of Major League Baseball or its clubs.