Indians add 'B' games to give pitchers work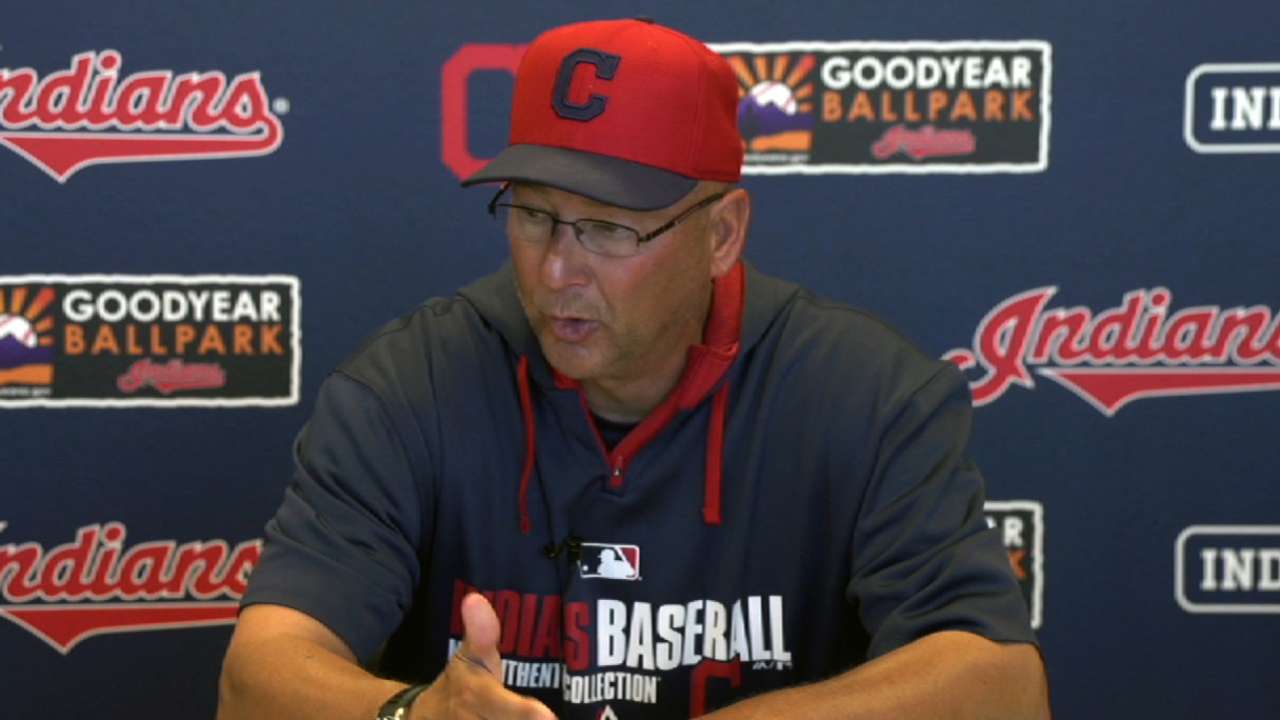 GOODYEAR, Ariz. -- The pitching schedule that hangs just inside the clubhouse doors at the Indians' Spring Training complex has been a fluid list of late. There have been daily changes as pitching coach Mickey Callaway and bullpen coach Kevin Cash have tried to properly distribute innings.
"That's not an easy thing to do," Indians manager Terry Francona said. "Mickey and Cashy, every morning, are in there trying to strike the right balance with everybody."
To help spread the work among the 33 pitchers in camp in the coming week, the Indians will have a "B" game against the White Sox at 1 p.m. ET on Tuesday morning at Cleveland's complex. On Thursday, the Indians will have an abbreviated intrasquad game in the morning, and the team will have some pitchers throw in Minor League games this week, too.
Aaron Harang (three innings), Tyler Cloyd (two), Nick Hagadone, Mike Zagurski, J.C. Ramirez and Scott Atchison are currently penciled in to pitch in Tuesday's "B" game against Chicago. Thursday's intrasquad game will feature Carlos Carrasco (four), T.J. House (three), Travis Banwart (two), Colt Hynes and Ramirez.
The Indians plan on having Danny Salazar (three innings) and setup man Cody Allen pitch in a Minor League game on Friday. On Saturday, Trevor Bauer (four) and Cloyd (three) are slated to throw on the Minors side, while right-hander Frank Herrmann will start to kick off a "bullpen day" that will feature nine relievers in the Cactus League game against the D-backs.
"When we added Aaron [Harang] to our camp," Francona said, "we knew we were going to have to do some mixing and matching. And we really want to try to see the relievers and not just in the eighth and ninth innings. So to do that, you've got to be a little creative."
Jordan Bastian is a reporter for MLB.com. Read his blog, Major League Bastian, and follow him on Twitter @MLBastian. This story was not subject to the approval of Major League Baseball or its clubs.