Salazar, closely monitored, feels 'great' after debut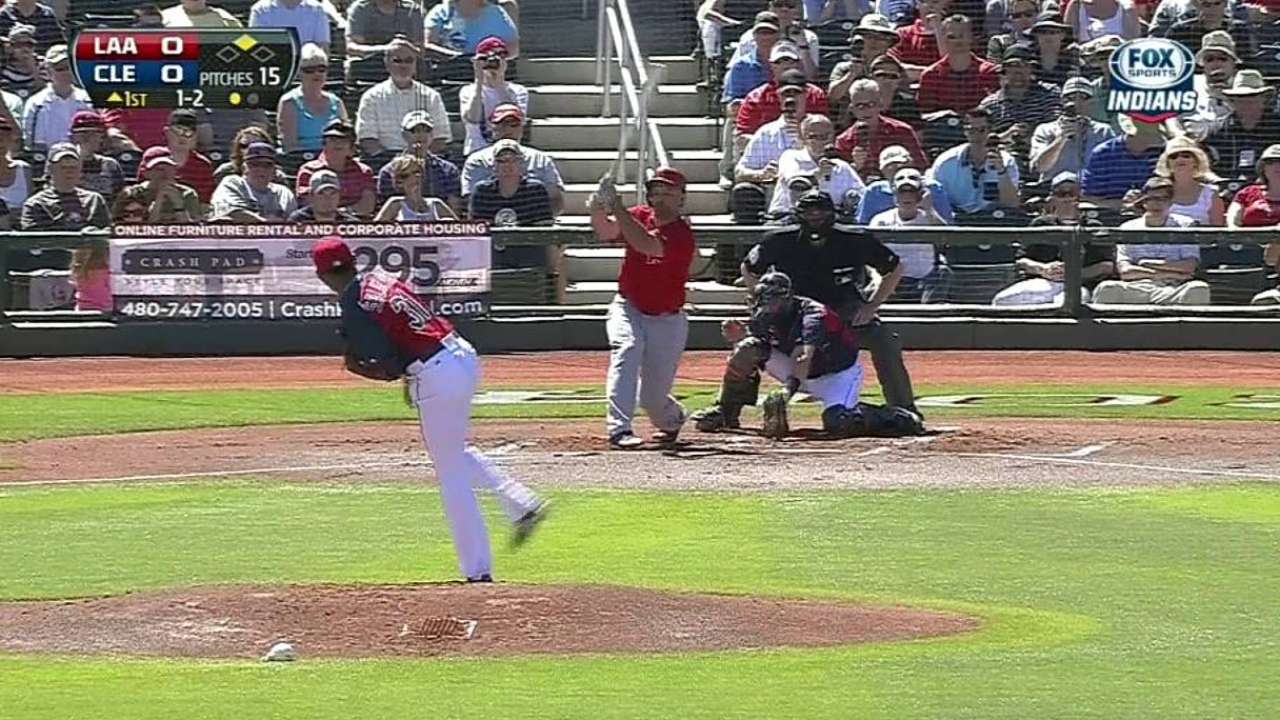 GOODYEAR, Ariz. -- The Danny Salazar Project went from the back fields of the Indians' Spring Training complex all the way to the big time, Cactus League-style, on Monday. The results turned out to be exactly what the young right-hander and his bosses were looking for.
Salazar, the 24-year-old who hits the upper 90s with his fastball and had Tommy John surgery four years ago, is coming off the highest inning total of his pro career (145 split over the Minor and Major Leagues in 2013). He appeared in 10 games for the Tribe last year, pitching to a 3.12 ERA with 65 strikeouts and 15 walks in 52 innings. He also made enough of an impression with his pure stuff to get the start in the AL Wild Card game the team lost to the Tampa Bay Rays.
This spring, the club has gone with the same cautious approach, and that meant Salazar was slated for either two innings or 35 pitches in his Cactus League debut Monday against the Angels. Salazar went 1 2/3 innings, giving up one run on two hits while striking out two and walking two.
"I felt great -- my arm and my elbow," Salazar said. "I was a little wild, but I guess for being my first time out there, it felt really good."
Since the plan is for Salazar to be monitored for innings on a constant basis throughout the regular season, he said his goal for Spring Training is to be ready to throw five innings when the Indians break camp. Salazar is virtually assured of the fifth starters' spot, and the way the schedule plays out, he won't have to be used until April 8.
"I thought the ball came out of his hand really well. You've got to remember, this is his first time in an "A" game. I thought he was free and easy, and a lot to build off of," said manager Terry Francona.
Salazar said the knowledge that he's not fighting for a rotation spot has helped him relax through his slow-developing spring.
"I just need to keep working hard now, because I don't want them to move me from there," Salazar said.
Doug Miller is a reporter for MLB.com. Follow him on Twitter @DougMillerMLB. This story was not subject to the approval of Major League Baseball or its clubs.