Tough outing complicates Carrasco's rotation bid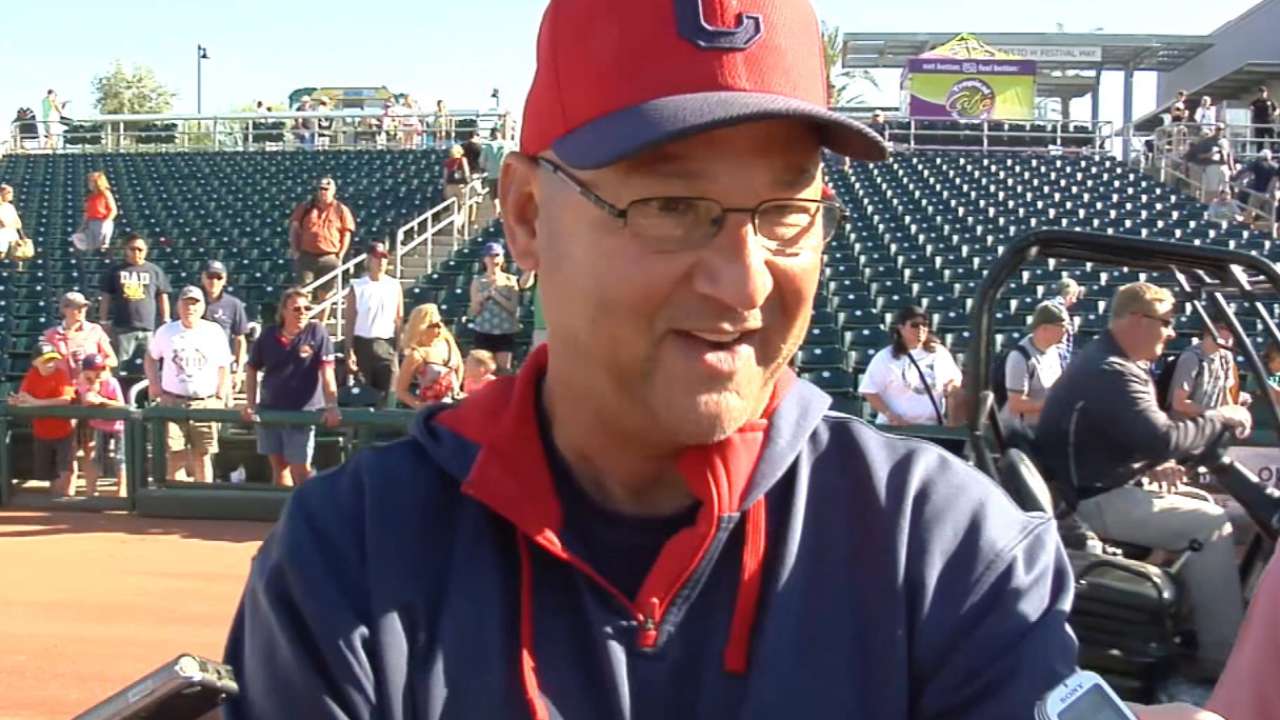 GOODYEAR, Ariz. -- Carlos Carrasco's subpar showing in his most recent outing added another layer to Cleveland's complicated rotation decision. It was a discouraging performance that may have put the right-hander's spot on the starting staff in jeopardy.
Indians manager Terry Francona said the team would not base any decision on one outing.
"The last thing you want to do," Francona said, "is when somebody either pitches really good or really bad, have a meeting that night or make a decision on somebody. That makes no sense."
Francona said he met with general manager Chris Antonetti on Thursday to discuss a variety of roster decisions and that the talks would continue this weekend. As things currently stand, Carrasco (out of options) is up against Josh Tomlin and Aaron Harang for the final spot in the rotation. Prospect Trevor Bauer also remains in camp as a dark-horse candidate.
"That's one of the spots that we need to make a decision on," Antonetti said. "I think it's safe to say that there's still a competition going on with a few guys, actually. Aaron Harang has thrown well. Josh Tomlin has thrown well. Carlos has had moments where he's thrown well. Trevor Bauer threw really well [on Thursday]. We'll have to make a decision here in the next few days."
During Wednesday's game against Oakland, Carrasco was charged with eight runs (five earned) on nine hits in 2 2/3 innings. The right-hander was scheduled to log five innings, but he was pulled as the game spiraled out of control and his pitch count climbed.
Carrasco said he got away from using his fastball effectively against the A's.
"It was a rough day; I think I tried to be too perfect," Carrasco said. "When I try to be perfect, every pitch goes out of the zone. That's what happened in my last game. ... When you try to be perfect, nothing goes well."
If he does not win a spot in the rotation, Carrasco would most likely have a home in the bullpen for Cleveland. Last season, the right-hander posted a 1.32 ERA in eight relief appearances and displayed the kind of aggressiveness that the team hoped to see from him as a starting candidate this spring.
Carrasco said his only goal right now was to earn the job in the rotation.
"This year, I just want to be a starter," Carrasco said. "Right now, all I can do is continue to work and show them I can be in the starting rotation."
Jordan Bastian is a reporter for MLB.com. Read his blog, Major League Bastian, and follow him on Twitter @MLBastian. This story was not subject to the approval of Major League Baseball or its clubs.