Emphasizing potential, Indians option Bauer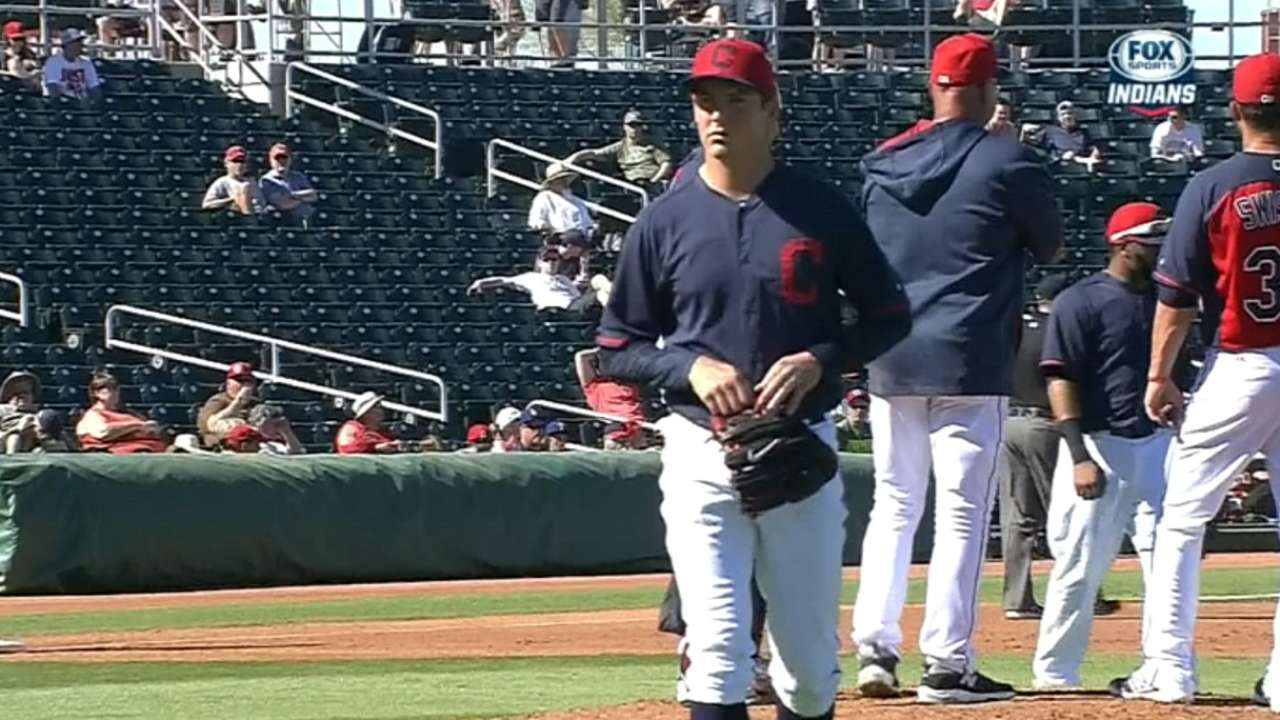 GOODYEAR, Ariz. -- As a former player, Indians manager Terry Francona understands that the day of a demotion is not always the best time for a detailed conversation -- but it was just that Monday morning for prospect Trevor Bauer.
Francona and general manager Chris Antonetti told Bauer he was optioned to Triple-A Columbus, taking the young right-hander out of the mix for Cleveland's final rotation spot. Bauer took the news in stride and had a productive discussion with the manager and GM.
"We kind of talked to Trevor at length this morning," Francona said. "We asked him, 'Are you ready to listen?' He said, 'Yeah.' He's a pretty thoughtful guy. We talked to him at length and tried to get him to understand where we view him."
With the 23-year-old Bauer heading back to the Minors, only right-handers Carlos Carrasco and Josh Tomlin are left in the Indians' rotation battle. Veteran Aaron Harang, who was told Sunday that he would not make the team, opted out of his Minor League contract on Monday and joined the Braves as a free agent.
The fact that Bauer remained in the running until Monday was a testament to the work he put in over the winter. Through last season and into the offseason, Bauer overhauled the mechanics of his delivery. In 16 innings between Cactus League games and Minor League games this spring, the pitcher allowed 13 runs (12 earned) on 18 hits with 18 strikeouts against eight walks.
Cleveland acquired Bauer from the D-backs in the nine-player, three-team deal that also involved the Reds in December 2012.
"It was a high-profile trade," Francona said. He goes through mechanical changes because of an injury and is trying to get back to where he was, had a lot of hiccups last year. He comes into camp really thinking he's ready to go, because he worked so hard, and had a few more hiccups. The last two weeks, he has done everything in his power that shows us that his path is coming.
"And when it gets here, again, we want this kid to come here and stay here. So, finding consistency in what he does is very important. We have a lot of confidence in the fact that he will do that."
Antonetti echoed Francona's remarks.
"The one thing we're so encouraged about," Antonetti said, "is right now Trevor is far closer to being a very successful Major League pitcher than he was six months ago and than he was two weeks ago even. He's on that right path."
Jordan Bastian is a reporter for MLB.com. Read his blog, Major League Bastian, and follow him on Twitter @MLBastian. This story was not subject to the approval of Major League Baseball or its clubs.