Chisenhall to back up at third, play mulitple roles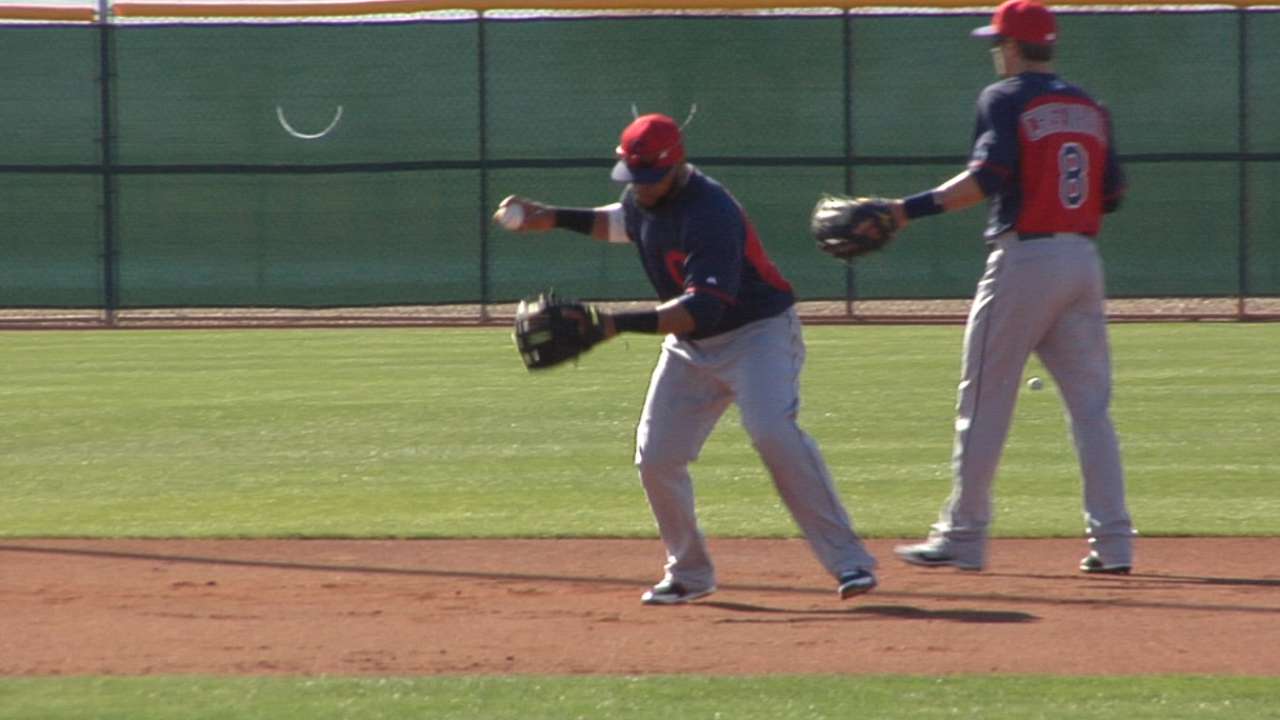 GOODYEAR, Ariz. -- Carlos Santana showed the Indians enough this spring to convince the club that he could serve as their third baseman this season. Cleveland also felt Lonnie Chisenhall played well enough in the preseason to warrant a spot on the Opening Day roster.
Indians manager Terry Francona's task now is figuring out a way to handle the playing time at the hot corner.
"Carlos is going to play third," Francona said Tuesday. "To be honest with you, I don't have a crystal ball. I'm not sure you really need to have one. Things happen. I think, at the beginning of Spring Training, I said I thought we could be the best team with Carlos and Lonnie. I'm not exactly sure how that's going to play itself out. I don't know if anybody really is [sure].
"I'd rather not commit to something [that could change]. I think Carlos has done an outstanding job of not only showing us that he can play third, but having the ability to catch a Major League ballgame at the same time. I think that's a phenomenal skill-set."
Santana, who serves as Cleveland's cleanup hitter, will get regular at-bats at third base, while also working as the team's primary backup catcher to Yan Gomes. That means that Chisenhall might see some at-bats as a designated hitter early this season, if he is not at third. Francona could also use the left-handed-hitting third baseman off the bench as a pinch hitter.
Chisenhall told Francona that he is willing to do anything the team asks of him.
"It's up in the air," Chisenhall said of his role. "They told me whatever they ask me to do, be ready. Whether that's pinch-run, play defense, start, DH, play left field, right field, whatever they ask me to do. It's one of those situations that, when I get in there, make the most of my opportunities."
Chisenhall said he did his best this spring not to worry about Santana's transition from catching to third base.
"I took away all the outside factors that I couldn't control," Chisenhall said. "It's just a better way to look at it. You get your work in and you let the game take care of itself. I said all along, I wasn't competing with Carlos. I was competing with myself and trying to get better as a player."
All Chisenhall needs to do is look to last season, when role players such as Ryan Raburn and Mike Aviles earned regular at-bats, to see that Francona will find opportune situations to work him into the lineup.
"He definitely moved the pieces around last year to make it work," Chisenhall said. "He's going to put you in a situation to succeed. He knows what it takes to have a winning team. He knows how to do that. I'll just wait for my name to be called."
Jordan Bastian is a reporter for MLB.com. Read his blog, Major League Bastian, and follow him on Twitter @MLBastian. This story was not subject to the approval of Major League Baseball or its clubs.