Roster set after Carrasco wins final rotation spot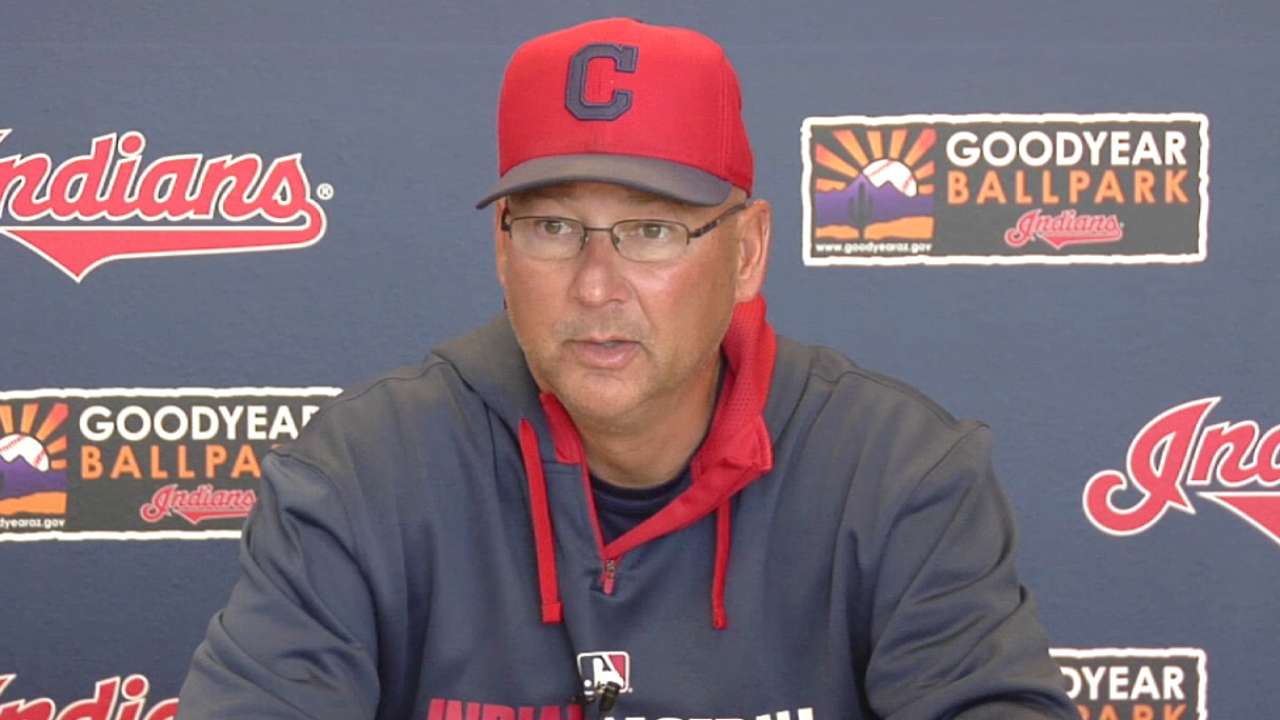 GOODYEAR, Ariz. -- Inside the Indians' clubhouse on Wednesday morning, Josh Tomlin's locker was empty, and his nameplate was removed. It was a clear sign that Cleveland had made its final decision for the starting rotation.
Right-hander Carlos Carrasco was named the fifth starter for the Indians, and Tomlin was optioned to Triple-A Columbus, bringing an end to the battle for the lone vacancy on the staff. Opening Day starter Justin Masterson will be followed by Corey Kluber, Zach McAllister, Danny Salazar and Carrasco.
"I feel happy to make the team," Carrasco said. "[This season] is really important, because I'm coming from the Tommy John surgery two years ago. Last year, I didn't have a good year. I think this is going to be a big year for us and for me, too."
The 27-year-old Carrasco spent most of the 2011 season in Cleveland's rotation, but he missed all of '12 after needing reconstructive surgery on his right elbow. Last year, the righty posted a 6.75 ERA in 15 games, during which he bounced between starting and relief roles for the Tribe. Out of Minor League options this spring, Carrasco was given every chance to win a rotation job.
Carrasco went to work on retooling his delivery mechanics over the offseason and throughout the spring, focusing on raising his lead arm to create more deception. The righty also tried to use the same aggressive approach he featured as a reliever last year, and the Indians saw enough in Spring Training to take a chance on him to start the season.
"It was a really tough decision; I think both guys had good camps," Indians general manager Chris Antonetti said. "I think what we tried to do is make a decision that was not solely focused just on the Opening Day roster, but what gave our team the best chance to win as many games as possible over the course of the season. Part of that is making sure we have enough options and enough depth."
Antonetti said Cleveland considered putting Tomlin in the bullpen but felt that was not fair to the pitcher and also hurt the team's depth. By pitching regularly at Triple-A, Tomlin can continue his comeback from August 2012 Tommy John surgery and be ready when Cleveland comes calling.
The Indians gave the final two bullpen jobs to right-handers Scott Atchison and Blake Wood.
"That's the way they decided to go," Tomlin said. "Ultimately, in the grand scheme of things, I'm going to do whatever is best for this organization and whatever I can to help this team win. If that means going to Triple-A, and getting my work in until it's my time, I'll just be ready to go out there and try to get outs."
Indians manager Terry Francona said Tomlin handled the news as well as the team could have hoped.
"I think we all understand why we made the decision," Francona said. "There's numerous reasons how we came to this conclusion, but it's still difficult when you respect the way a guy goes about it so much. With Carlos, we've been pretty open about the fact that we really want to see Carlos pitch."
Jordan Bastian is a reporter for MLB.com. Read his blog, Major League Bastian, and follow him on Twitter @MLBastian. This story was not subject to the approval of Major League Baseball or its clubs.