Cleveland's gamble on Wood pays off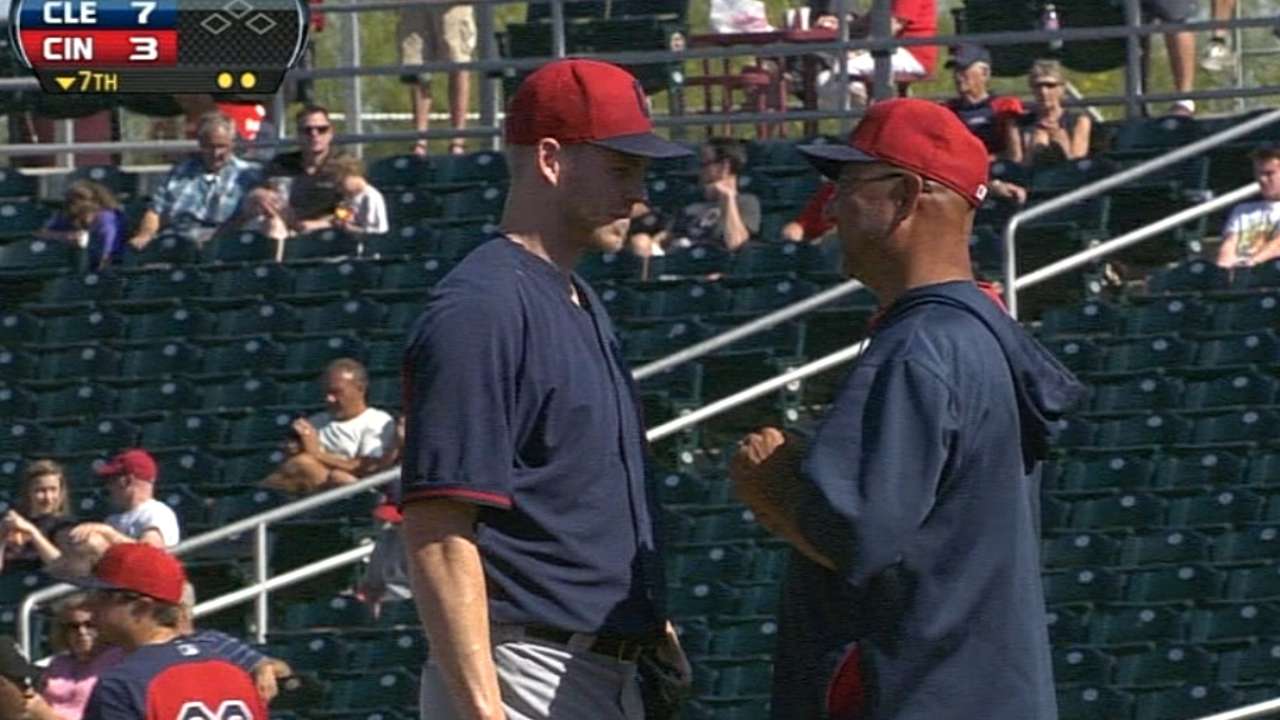 GOODYEAR, Ariz. -- Indians manager Terry Francona strolled across the infield on Monday to pull reliever Blake Wood from the game against the Reds. When he arrived to take the ball from Wood, Francona had a question for the pitcher.
"I said, 'Have you ever made the team on the mound?'" Francona said. "He was like, 'No.' I go, 'Well, you just did.'"
Wood received one of the final spots in the Opening Day bullpen.
That completed a long road back to the big leagues for Wood, who had Tommy John surgery on his right elbow in May 2012. In November of that year, Cleveland claimed the injured right-hander off waivers from the Royals, rolling the dice on a reliever who was unlikely to be in the Major League picture until 2014.
As Opening Day approaches, Cleveland believes it was a great gamble.
Francona said general manager Chris Antonetti "and his guys deserve a lot of credit for that one. I think they felt like this could be a win for the Indians."
Through 11 Cactus League appearances this spring, the 28-year-old Wood has a 0.93 ERA with 11 strikeouts and six walks in 9 2/3 innings. Beyond the stat line, and the powerful fastball, the Indians were impressed with Wood's efforts to speed up his motion and control the running game.
Wood said his comeback improved his view on the game and the opportunity at hand.
"I think it's given me perspective on a lot of things," said Wood, who has a 4.25 ERA in 108 career Major League games. "[You know] how special it is just to be even be on a big league squad. Not that I ever took it for granted in the past, but just coming back from what I did, and being on an Opening Day roster, is definitely really fulfilling."
Wood is also grateful that the Indians took a chance on him.
"It's meant a lot," Wood said. "They were able to believe in me, when you don't really know what's going to happen when a guy is coming back from a major surgery. For them to do that and stick with me throughout this whole thing and give me a shot, I'm definitely really happy they did that."
Jordan Bastian is a reporter for MLB.com. Read his blog, Major League Bastian, and follow him on Twitter @MLBastian. This story was not subject to the approval of Major League Baseball or its clubs.