Axford teams with rival to battle cancer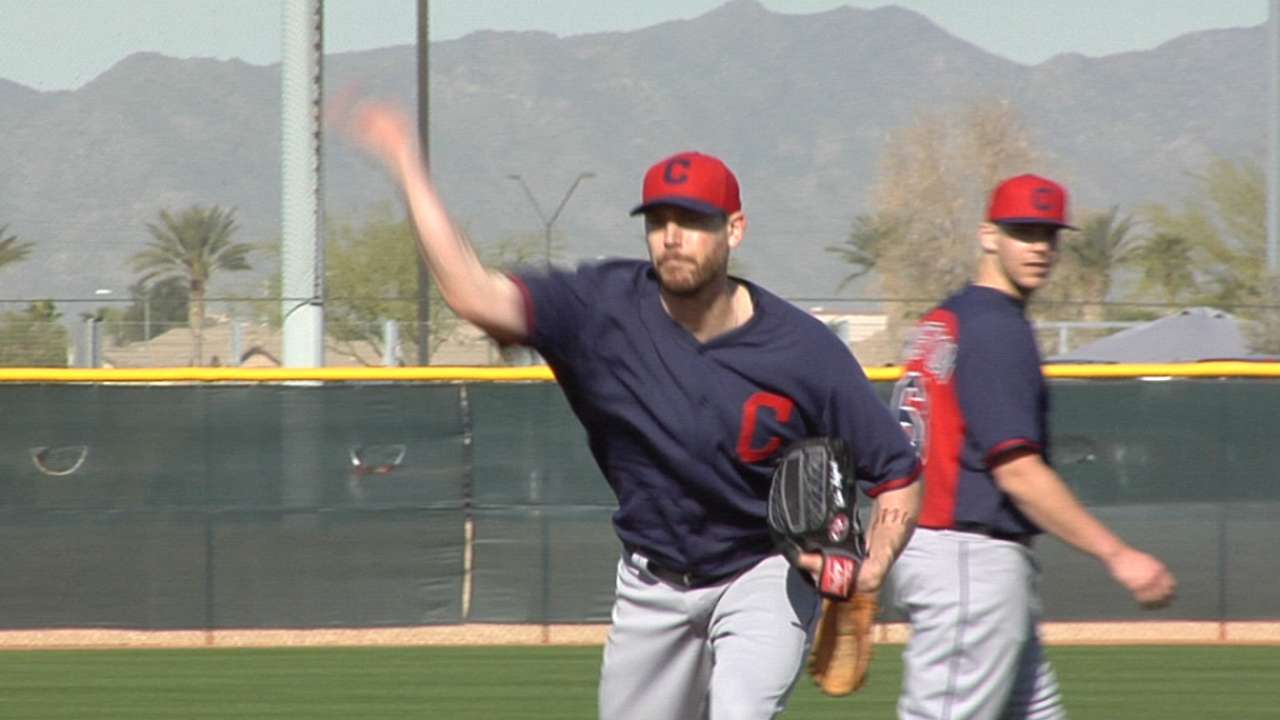 GOODYEAR, Ariz. -- John Axford has been passing out the shirts to his Indians teammates throughout the spring. One by one, players have begun wearing them in the clubhouse, showing support for an initiative started by Cardinals reliever Jason Motte.
The tops are navy blue with a large backward "K" in red. It is part of Motte's idea to broaden the reach of his strike out cancer program.
"Some of the hitters were like, 'Oh, sure, I'll 'K' backwards for cancer. No problem,'" Axford said with a laugh. "It might be a pitcher's type of motto, but at the same time it's a baseball motto. It is a really cool slogan."
The website 108stitches.com went live on March 17, with 108 Stitches showcasing the "Strike Out Cancer" tees in each team's colors. Each is promoted by a different player who agreed to join Motte in a partnership that will benefit multiple charities. Each participating player has chosen a charity that will benefit from the T-shirts sales, and for each shirt sold, $5 will go to the Jason Motte Foundation and $5 to a charity of that player's choice. A full list of recipient charities will be listed on the 108 Stitches website soon, along with a photo of each player rep in his team-colored shirt.
"At the end of the day, it's about reaching people," Motte said. "Baseball is great and everything, but there are other really important things going on out there that affect a lot of people. Wearing these T-shirts shows people that they're not alone. They're not sitting there doing chemo by themselves where no one cares. People do care, whether it's friends, family or baseball players.
"There are people who this has touched and this has affected. This is something we're trying to do to get the word out there and try to raise money to help."
Axford, who was a teammate of Motte's with the Cardinals last season, did not hesitate to help out.
"I didn't really know Jason before I got to St. Louis," Axford said. "We'd just give the friendly, I guess, closer hello to each other, and that'd really be about it. But I saw it on there and I always kind of wondered what it was. It wasn't until I got to St. Louis that I realized this is what he was doing it for.
"I remember him kind of bringing up the idea of trying to bring it to other people or do different things. He knew that I did 'Movember' every single year, which helps raise awareness for men's health and prostate cancer for the month of November.
"We were talking about that and, somehow in the offseason, it came to, 'Hey, would you want to do this? We could do it in Indians colors.' We're trying to get it all across MLB."
Jordan Bastian is a reporter for MLB.com. Read his blog, Major League Bastian, and follow him on Twitter @MLBastian. This story was not subject to the approval of Major League Baseball or its clubs.