Tribe trio applauds drug program changes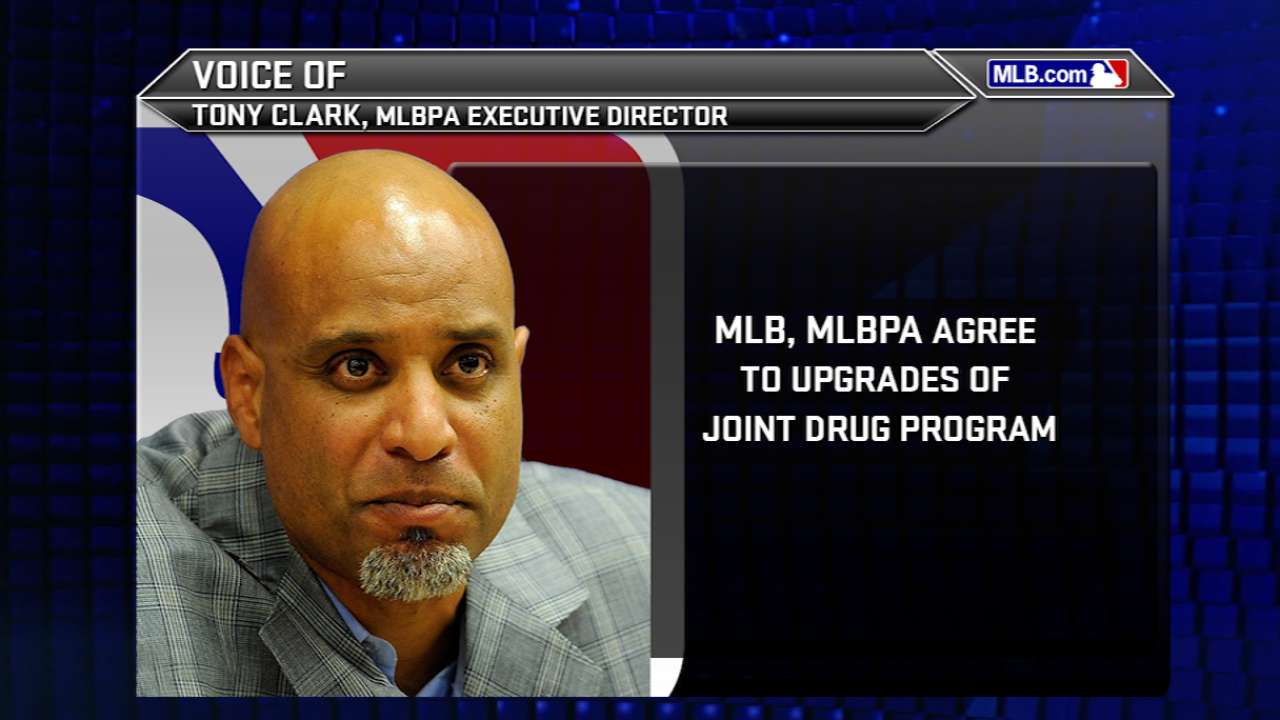 SAN DIEGO -- Major League Baseball and the MLB Players Association jointly announced a series of changes to the Joint Drug Prevention and Treatment Program on Friday. Many players inside Cleveland's clubhouse were pleased to hear the news.
"I think it's great," Indians first baseman Nick Swisher said. "I think Major League Baseball is making the steps in the right direction to clean our game up. As players, we have a lot of influence on that, and as a league, we are making strides to let guys know that, if you take a chance of doing this, you will get caught."
Beyond increasing the in-season testing and testing for HGH, MLB and the MLBPA increased the length of suspensions for offenders. A first-time positive test will result in an 80-game suspension, a second violation will mean a 162-game penalty and a third violation calls for the player to be permanently suspended. Any players testing positive will also be ineligible for postseason play that season, even if their suspension has been completed.
Indians manager Terry Francona's friendship with Commissioner Bud Selig dates back to their days with the Brewers. Prior to Friday's exhibition game against the Padres at University of San Diego's Fowler Park, Francona said he knows how passionate Selig is about cleaning up the game.
"From what I know of Mr. Selig, and I probably know him better than most," Francona said, "he cares so much about the game. I think we kind of took a beating in the early '90s. I think that's something that, before he retires, would like to see a little better. Just when you talk to him, he cares so much about the game. That's, unfortunately, been part of it."
Veteran Jason Giambi, who is entering his 20th season in the Majors, has been open about his past use of performance-enhancing drugs. Giambi said it is important that MLB and the MLBPA are taking steps to make players think twice about using any banned substances.
"The biggest thing is, not only the penalties, but you want the deterrent to keep guys from doing it," Giambi said. "I know a lot of guys have complained about guys still being able to play and things like that. It's definitely voted on by all the players, and I think everybody is in agreement with it."
Swisher echoed that sentiment.
"I think just in general, if you break the law, you've got to pay," Swisher said. "Major League Baseball is the law, and they're doing a great job of cleaning it up, and we're proud of that, man. We want our sport to be clean and we want to go out there and give everybody the same fair shot."
Jordan Bastian is a reporter for MLB.com. Read his blog, Major League Bastian, and follow him on Twitter @MLBastian. This story was not subject to the approval of Major League Baseball or its clubs.