All base hits an extra for catcher Gomes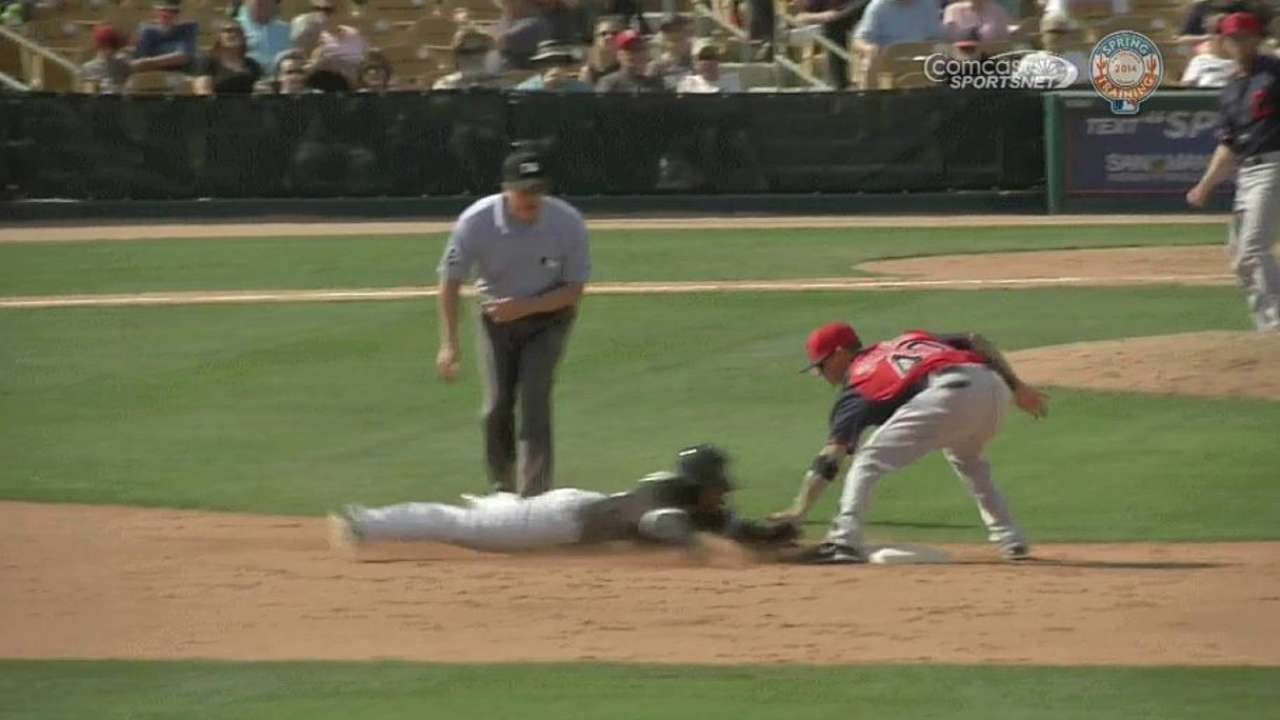 SAN DIEGO -- During his days managing the Red Sox, Terry Francona thought Jason Varitek approached catching in the best way possible. The top priority was leading a pitching staff; any offensive contributions were merely a bonus for the team.
"I was probably around the guy that was the best at that," Francona said. "He knew, if we were shaking hands, he did his job."
Francona continues to impart that lesson to Indians catcher Yan Gomes.
Throughout last season, when Gomes emerged as Cleveland's starter behind the plate, and heading into this year, the catcher has focused on leading the Tribe's pitchers. Moments of frustration in the batter's box will creep into play at times, but Gomes has embraced the idea that his offense is secondary.
"Tito has mentioned it," Gomes said, referring to Francona. "It's kind of ingrained in my head now. If I get a base hit, that's extra stuff. I just have to get the pitchers through it."
Last season, Gomes hit .294 with 11 home runs, 38 RBIs and an .826 OPS in 88 games for the Indians, playing a key role in their run to the American League's top Wild Card spot. Heading into Saturday's game against the Padres at the University of San Diego, the catcher was hitting .255 during Spring Training.
But prior to going 3-for-4 with a homer and three RBIs in Friday's 16-4 victory over the Padres, Gomes had been mired in a 1-for-17 slump. Francona sent Gomes to the Minor League side on Wednesday in Arizona in an effort to regain his offensive rhythm. Gomes said he had roughly 10 plate appearances while bouncing between Triple-A and Double-A.
"I was just trying to get a little, in a sense, confidence back," Gomes said. "I was just trying to take some more relaxed at-bats over there and get some work done and get some aggressiveness back a little bit."
Gomes said he was getting comfortable with the concept that hitting was not his top priority, though.
"I think it's gone pretty well," Gomes said. "When they go tell a young guy, 'We don't care what you hit,' it is kind of tough. But I feel like I'm making a constant effort of doing it, and I think it's gone pretty well."
Francona said Gomes had undoubtedly made strides in that area.
"For a player with his amount of experience, I think he's way ahead of the curve," Francona said. "I think his maturity is off the charts. The one nice thing with Gomes is, when you have to remind him, he's mad at himself. And, when we remind him, it's not because he's coming up short. It's that we want him to be that good."
Jordan Bastian is a reporter for MLB.com. Read his blog, Major League Bastian, and follow him on Twitter @MLBastian. This story was not subject to the approval of Major League Baseball or its clubs.