Area product Morgan has fun with Bay Area fans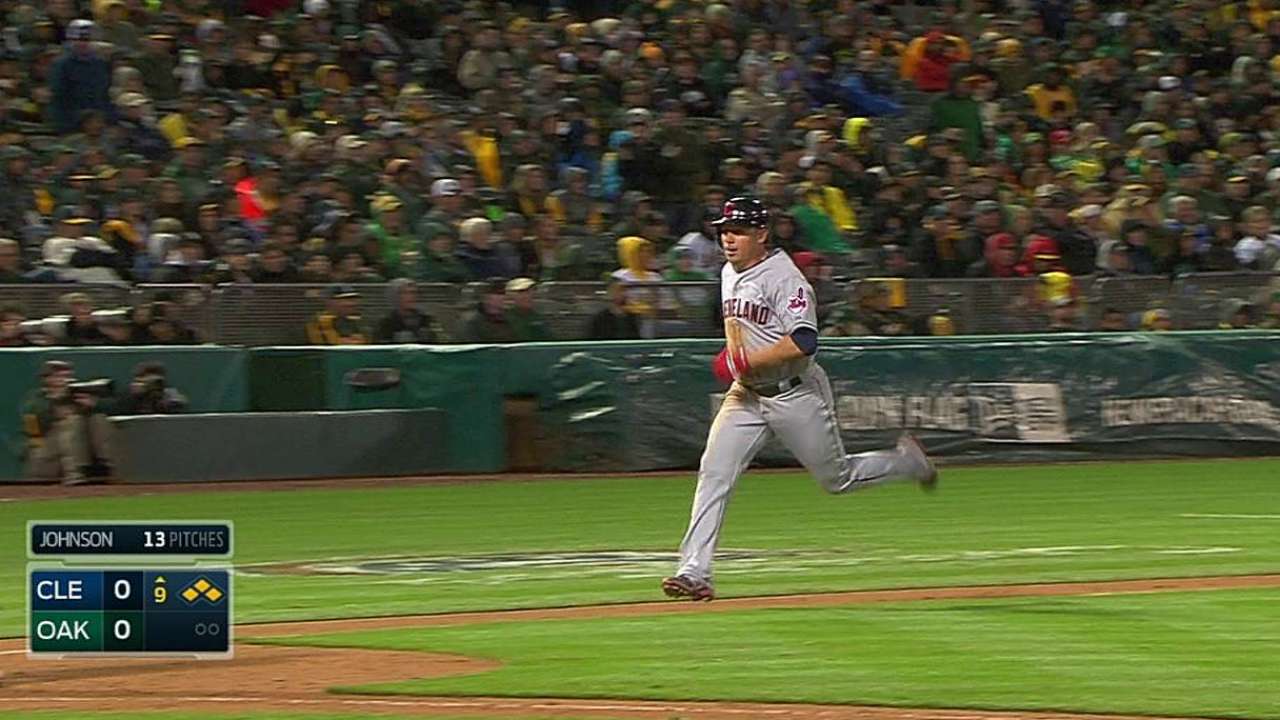 OAKLAND -- Nyjer Morgan could not help himself. During a postgame television interview after Monday's Opening Day win over the A's, the Indians outfielder heard a group of fans chanting his name from the Coliseum stands.
Morgan turned toward the crowd, opened his mouth wide and growled.
That was his alter ego, Tony Plush, making a brief cameo.
"Just a little bit. He came out. He came out just a little bit," Morgan said with a laugh. "I've tried not to bring him out too much. He's still on an island on vacation somewhere. Yeah, he came out. Just a little bit. I was just having fun out there."
Morgan is enjoying every opportunity he can get right now with the Indians, who used him as their leadoff man and center fielder on Monday with Michael Bourn (left hamstring) on the 15-day disabled list. With Bourn sidelined through at least Friday, Morgan's playing time might come against right-handed pitching.
In the 2-0 win over the A's in the season opener, Morgan delivered the game-winning RBI with a sacrifice fly against closer Jim Johnson in the ninth inning. The fleet-footed outfielder added a walk in the first inning and a sacrifice bunt in the fifth. Morgan became only the fifth player since 1950 to have a game-winning RBI in his Indians debut on Opening Day.
"He took some pitches in the first at-bat," Indians manager Terry Francona said. "He drove the ball to the outfield with a runner on third with less than two outs, and he caught the ball in the outfield. That's what we got him for."
Morgan, who grew up in the Bay Area, was thrilled that he could contribute on Day 1.
"I got a little taste of it and it felt good being part of it," Morgan said. "Doing it for this year to start off Opening Day, it's a real nice thing. I just take each day as they come and try to make sure I put on my best performance shoes."
Jordan Bastian is a reporter for MLB.com. Read his blog, Major League Bastian, and follow him on Twitter @MLBastian. This story was not subject to the approval of Major League Baseball or its clubs.