After lengthy search, Murphy feels he's found swing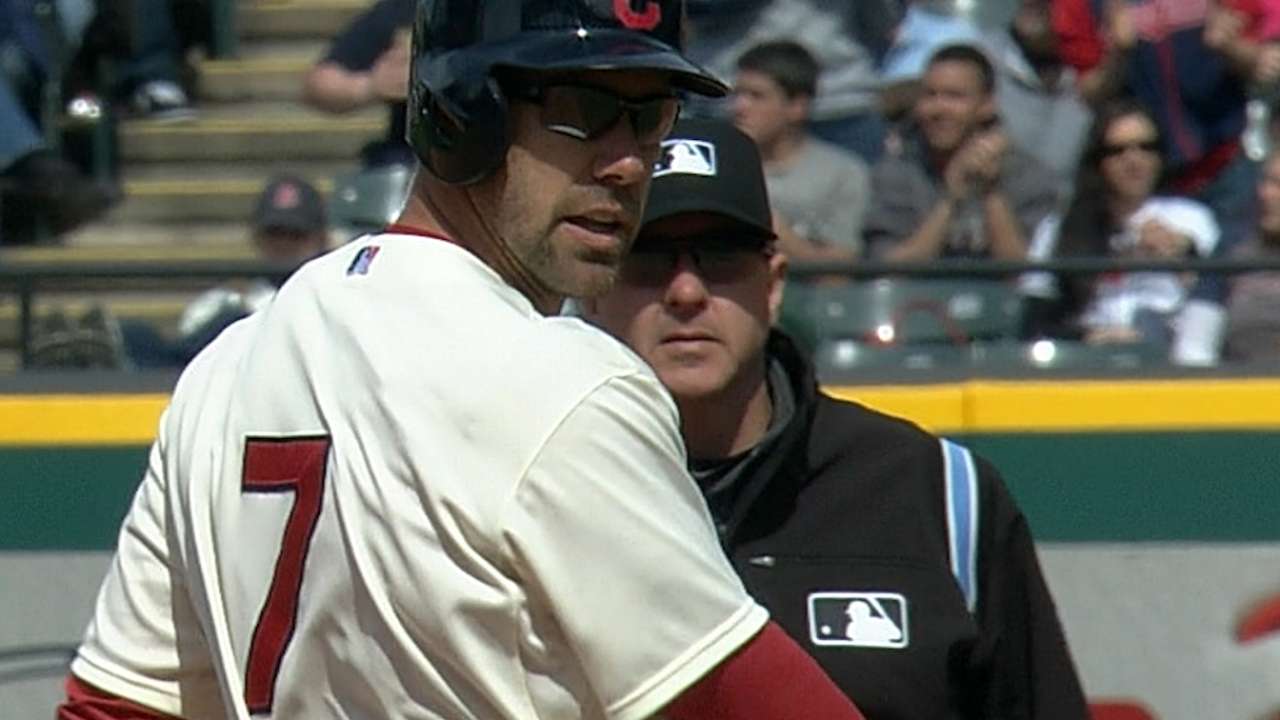 CLEVELAND -- David Murphy felt like he had been searching for his swing for more than a year. Before he stepped up to the plate Sunday afternoon, the Indians outfielder felt like things were in order during his pregame work in the batting cage.
When that feeling carried over into Sunday's game against the Twins, Murphy felt a sense of relief.
"It's an answer to prayer, honestly," Murphy said.
Not to make too much of one game, but Murphy churned out four hits in Cleveland's 10-7 loss to Minnesota. The veteran outfielder knows it is a small sample size, but he also knows that the feeling he had in the batter's box was something that had been missing throughout Spring Training and during last season with the Rangers.
It marked the ninth game with at least four hits in Murphy's career, but his first since June 27, 2012. Before his four-hit outburst against the Twins, Murphy had been in an 2-for-14 spell to open the season.
"That felt great," Murphy said. "I think your goal as a hitter is to feel comfortable and feel great in the box. That feeling has kind of been few and far between for the last year for me. [Sunday] was obviously one day, but the feeling was there and hopefully we can build on that."
What impressed Indians manager Terry Francona was Murphy's use of the whole field. The right fielder had two hits to right field and another pair to left during the outburst. It was the kind of line-to-line showing that Cleveland envisioned when it inked Murphy to a two-year contract worth $12 million over the offseason.
"He hit the ball all over the field, from the right-field line to the left-field line," Francona said. "Obviously, he felt pretty good. That's the type of hitter he can be -- line to line. He can hit a lot of doubles and give us some punch that way."
The 32-year-old Murphy hit .304 with 15 home runs, 61 RBIs and an .859 OPS in 147 games for Texas in 2012, but then dropped off considerably a year ago. In 142 games for the Rangers last year, Murphy hit .220 with 13 homers, 45 RBIs and a .656 OPS. This past spring, when Murphy hit just .204 with 17 total bases in 18 Cactus League games, it was hard not to get discouraged.
"At times," Murphy said. "I was kind of in-between. On one hand, I knew it was Spring Training and I knew that I'm basically getting work in and trying to figure some things out. At the same time, that feeling just wasn't coming. That can be a difficult feeling. The good thing is I felt like my last week of spring was the best week."
Murphy has said numerous times that he put too much pressure on himself last season, partly due to the fact that the Rangers lost Josh Hamilton to free agency. He got away from his usual approach, tried to generate more power in his swing and it backfired. In Cleveland's versatile lineup, he no longer feels as much weight on his shoulders.
"I don't feel like I need to do too much," Murphy said. "And I think after last year, I learned my lesson also. Regardless of what type of lineup I was coming to, I think the lesson was to come in here and to be me."
Jordan Bastian is a reporter for MLB.com. Read his blog, Major League Bastian, and follow him on Twitter @MLBastian. This story was not subject to the approval of Major League Baseball or its clubs.