Francona taking different approach to errors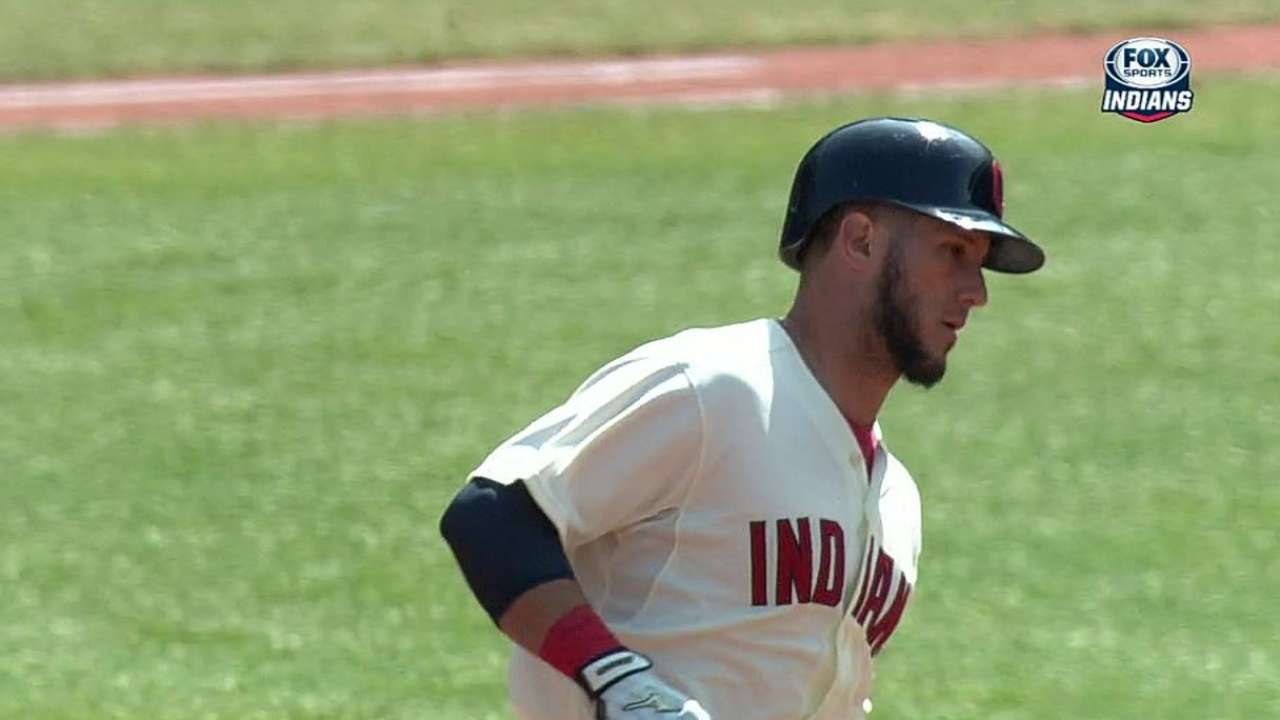 CLEVELAND -- Indians manager Terry Francona tries not to overreact when it comes to errors on the field. Before discussing an on-field mistake with one of his players, Francona will try to determine what the thinking was behind the play in question.
During the third inning of Sunday's 10-7 loss to the Twins, Indians catcher Yan Gomes made a costly throwing error that paved the way for three runs. After considering the situation, Francona understood what Gomes was trying to do, but hoped the catcher learned from the mistake.
"I have a hard time being critical when players are trying really hard to do the right thing," Francona said. "He came out of there hard. He wanted to get this inning over now. If he nonchalants it and comes out and sails one away, that's different. He was all over that ball."
With runners on the corners and one out, Minnesota's Chris Colabello chopped a pitch in front of home plate. Gomes sprung from his crouch, snared the roller and fired the ball up the middle toward second base. The idea was to turn a double play to escape the inning, but neither second baseman Jason Kipnis nor shortstop Mike Aviles could get to the bag in time.
The bal skipped into center field, allowing Brian Dozier to score easily from third base. The next two hitters, Trevor Plouffe and Jason Kubel, followed with an RBI single each to put Cleveland in a 5-2 hole.
"I tried to probably create a play that wasn't there," Gomes said Monday. "I tried too hard to turn it into a double play or something, and ended up throwing it away. You've got to maybe, right there, just take the out. ... The situation that was going on, I was trying to end the inning."
It was clearly a mistake by Gomes, but Francona did not feel the need to criticize the catcher under the circumstances.
"That's a hard play, if you go fast motion like it was for Gomer," Francona said. "Before I ever say something to a player, I try to think through it, because it's easy every time somebody throws a ball away, you could say something to somebody. But, if you put yourself in his shoes, Masty's having one of those innings, Gomer pounces on that ball great.
"He comes at it like he's got a rocket [underneath him], and then he fires the ball to second and our guys don't have a chance to even get there. ... It's one of those plays where you can understand. In a perfect world, does he look the guy back at third or go to third? Maybe. But I understand why he did it."
Jordan Bastian is a reporter for MLB.com. Read his blog, Major League Bastian, and follow him on Twitter @MLBastian. This story was not subject to the approval of Major League Baseball or its clubs.