Tribe activates Giambi from DL; Wood optioned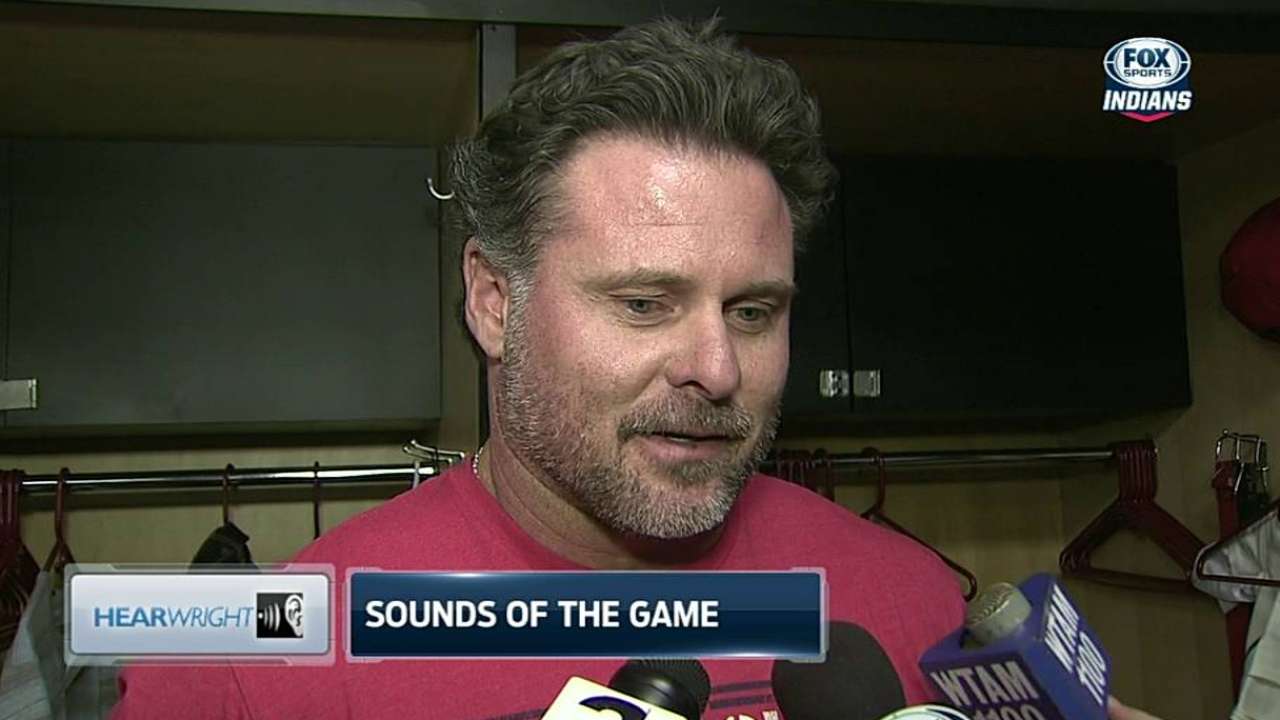 CLEVELAND -- The Indians finally have their bench aligned as they initially planned. Prior to Monday's 4-3 win over the Royals, Cleveland activated veteran Jason Giambi from the disabled list after his comeback from a fractured rib in his right side.
In order to clear room on the active roster for Giambi, the Indians optioned right-handed reliever Blake Wood to Triple-A Columbus. With Wood out of the mix, manager Terry Francona has returned to a more traditional seven-man bullpen.
Giambi was slotted in the seventh spot in Monday's starting lineup as Cleveland's designated hitter and went 0-for-4.
"He means a lot to what we do," Francona said before the game. "Having him back is really good. You guys know this, but he's one of the more special people that we've all been around. So, to have him back fighting with us is a good feeling."
The 43-year-old Giambi will rejoin the bench in the same role he held last season for the club. The slugger will serve as a part-time designated hitter, pinch-hitter and clubhouse presence. Giambi excelled as a late-inning hitting specialist for the Tribe last summer.
While Giambi posted only a .183 average with nine home runs and 31 RBIs in 71 games overall last season, he turned in a 1.181 OPS in the ninth inning. He also hit at a .271 clip with a .960 OPS with runners in scoring position last year.
On March 7, Giambi was struck in the right side by a pitch from Cubs right-hander Edwin Jackson. Giambi sustained a non-displaced fracture of a rib and opened the regular season on the 15-day disabled list.
"I'm excited to be part of the ballclub again," Giambi said. "The first one is always where the adrenaline is kicking. You're excited to be playing and then you get into the Groundhog Day of being part of the ballclub. It'll be good to get the first one out of the way."
With Giambi on the 15-day DL to begin the year, Francona was able to utilize an eight-man bullpen.
Wood underwent Tommy John surgery in May 2012, but Cleveland claimed him off waivers that November and gave him all of last season to rehab his arm. This past spring, the hard-throwing right-hander earned a spot in the Opening Day bullpen.
In seven appearances out of the bullpen, though, Wood turned in a 7.11 ERA in 6 1/3 innings, walking as many hitters as he struck out: seven. In 115 career outings between stints with the Royals and Indians, the 28-year-old Wood has a 4.39 ERA in parts of four seasons.
"His stuff is tremendous," Francona said. "Actually, up until the end of Spring Training, I probably fell on the side of starting him in Triple-A, because I think his ceiling is so high and he can help us, and I was afraid that coming out of the gate there'd be some inconsistent work and maybe we'd see what we did.
"But, in fairness to him, the last two weeks of Spring Training, I don't know if a guy put a bat on the ball. It would've been a hard send down. I think if he gets consistent work in Triple-A, he can come back and really help us. That's why we did it."
Jordan Bastian is a reporter for MLB.com. Read his blog, Major League Bastian, and follow him on Twitter @MLBastian. Teddy Cahill is a reporter for MLB.com. Follow him on Twitter at @tedcahill. This story was not subject to the approval of Major League Baseball or its clubs.