Francona gives Santana mental break vs. KC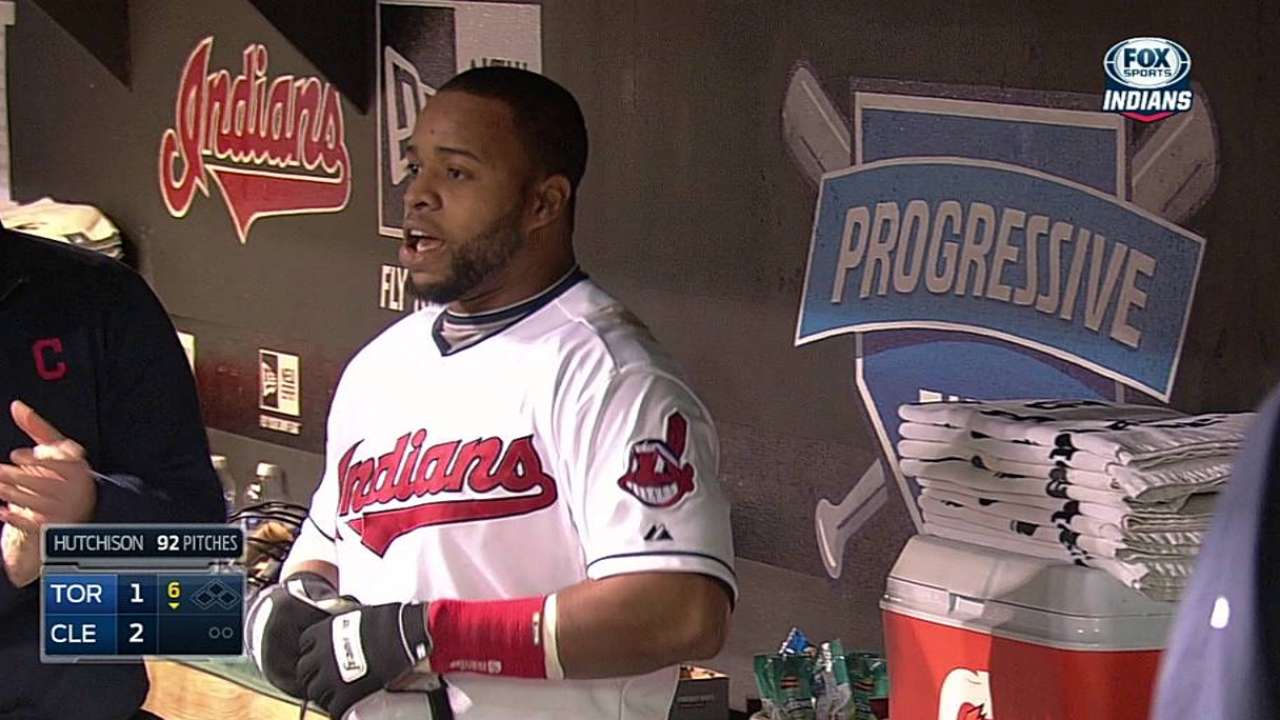 CLEVELAND -- Even during a slump, Carlos Santana typically maintains solid plate discipline. When Indians manager Terry Francona saw Santana uncharacteristically chasing pitches on Sunday against Toronto, he felt the slumping third baseman could use a day off.
Francona provided Santana with a mental break in Monday's 4-3 win over the Royals, and instead gave third baseman Lonnie Chisenhall, who went 2-for-4 with a double, a one-game stint as Cleveland's cleanup hitter. Francona said that Santana's only task after his pregame workout was to relax.
"There's just a few reasons where I thought it'd be good for him," Francona said. "[It's] just because he's starting to chase some balls out of the zone. You can tell he's getting a little anxious. He's always had that volatile swing, but he stays in the zone so well. And [Sunday], he really started chasing.
"So, I thought maybe I'd give him a night to kind of take it easy and, again, get some stuff done on the field without the game hanging over your head. I think that'd be good for him."
Santana agreed that the day off could be good for him.
"I think it's for good, but if he needs me, I'm ready," Santana said. "I know I've had a little slow [start to the] season, but it's a long season. I'm a good player and I'm a good hitter. It happens. I'm fighting. I'm playing hard all the time to help my team, and I'm fighting."
Entering Monday, the switch-hitting Santana was hitting .145 with one home run, two doubles, three RBIs and 17 walks through 18 games. The third baseman and backup catcher launched a two-run home run in Friday's loss to the Blue Jays, but he headed into Monday's game mired in a 2-for-39 spell at the plate. Santana went 0-for-3 with three strikeouts on Sunday.
Francona said he moved Chisenhall -- Cleveland's No. 9 hitter in seven of hit 10 starts -- to the cleanup spot for a few reasons. One is the fact that the left-handed-swinging third baseman had a .448 average through 29 at-bats this season. Chisenhall also had a .500 average (5-for-10) in his career against Kansas City starter Jeremy Guthrie.
"He's been swinging the bat about as good as we've ever seen him," Francona said. "He's got good numbers against this guy, and it keeps everybody else in place. I think he's swinging the bat really well."
Jordan Bastian is a reporter for MLB.com. Read his blog, Major League Bastian, and follow him on Twitter @MLBastian. Teddy Cahill is a reporter for MLB.com. Follow him on Twitter at @tedcahill. This story was not subject to the approval of Major League Baseball or its clubs.