Tipping pitches isn't issue for Salazar in loss
Right-hander has experienced problems in past starts with glove position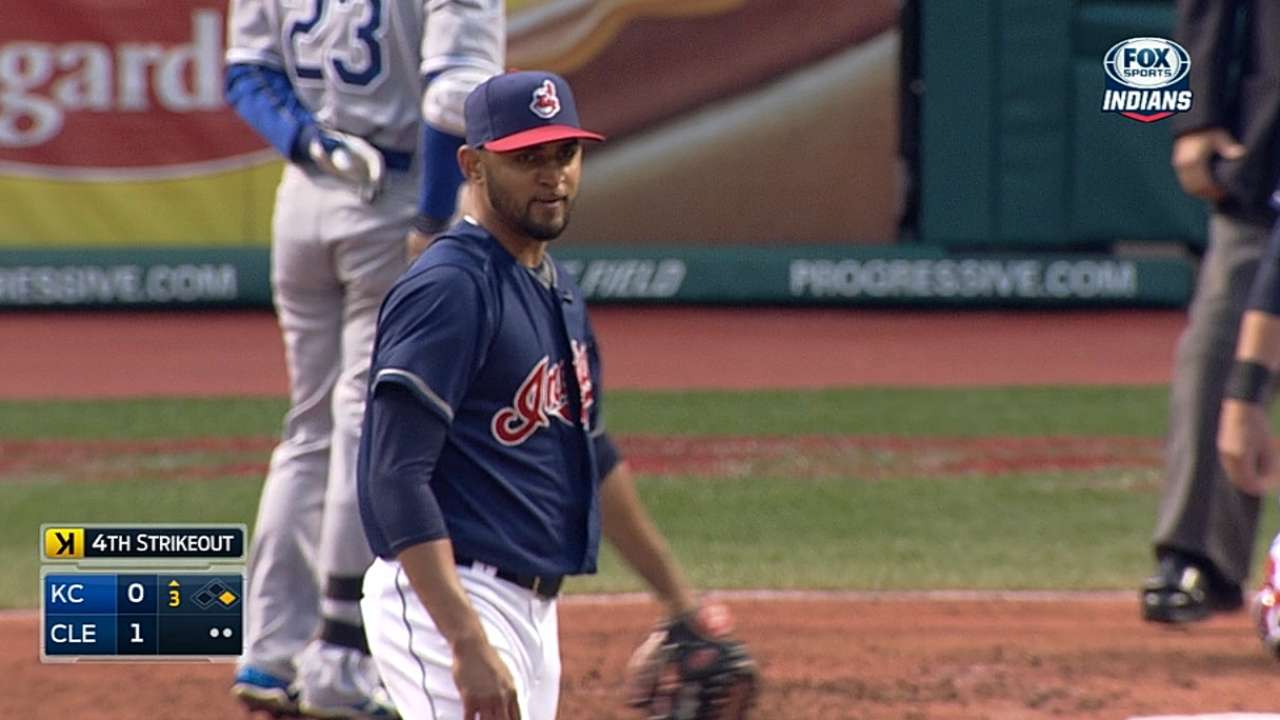 CLEVELAND -- Danny Salazar has had issues in the past with tipping pitches. Neither Indians manager Terry Francona nor pitching coach Mickey Callaway felt that was a contributing factor in the right-hander's loss to the Royals on Tuesday.
That did not stop Salazar from bringing up the problem after his outing.
"I was actually kind of surprised he said that," Francona said prior to Wednesday's game against Kansas City. "No, he's not. Now, there were some instances last year and in Spring Training that we kind of addressed with him. But, no, we really keep an eye on stuff like that. Believe me, we do."
During Tuesday's 8-2 defeat, the 24-year-old Salazar turned in three no-hit innings before surrendering a four-spot in the fourth. Overall, the right-hander was charged with five runs (four earned) on seven hits in 4 1/3 innings, ending with six strikeouts and two walks.
Over his last three starts, Salazar has given up 15 runs (14 earned) on 19 hits in just 12 2/3 innings. Overall, he is 0-3 with a 7.85 ERA in four starts.
After Tuesday's game, Salazar mentioned that he has dealt with tipping his pitches, adding that it felt like the Royals knew what was coming. The pitcher noted that he has accidentally positioned his glove differently for changeups and fastballs in the past. In the fourth inning on Tuesday, Mike Moustakes saw two changeups and crushed the second offspeed pitch for a three-run home run.
The ill-fated changeup in question floated high in the strike zone.
"I just think overall, he's up," Callaway said. "After the first time through [the lineup], they've seen him one time, they can time him up a little better and, if you're pitching up in the zone, you're going to get hurt. If he gets the ball down and makes that adjustment, he's going to be fine."
Francona added that Salazar's changeup had been extremely effective prior to the pitch to Moustakas.
"It's easy to second guess," Francona said. "'Why'd he throw a changeup?' Well, he had been throwing some pretty good ones. He just left one [up]. He didn't throw one in a spot where [it was effective]. He kind of nursed it and it hurt us, but he had thrown some really good ones."
Callaway planned on talking things over with Salazar on Wednesday and reviewing video of the righty's last outing to see if he could spot something he did not see Tuesday night. The pitching coach did not expect the pitch-tipping problem to persist.
"We've noticed some stuff about that in the past," Callaway said. "Some last year, some this year. It's just the way he holds his changeup and then kind of goes to his fastball. We've really tried to hone in on that and kind of hold the ball a different way from the onset, so he has to change to everything. Hopefully, it's not an issue anymore."
Jordan Bastian is a reporter for MLB.com. Read his blog, Major League Bastian, and follow him on Twitter @MLBastian. This story was not subject to the approval of Major League Baseball or its clubs.