With leg healed, Bourn getting hot for Indians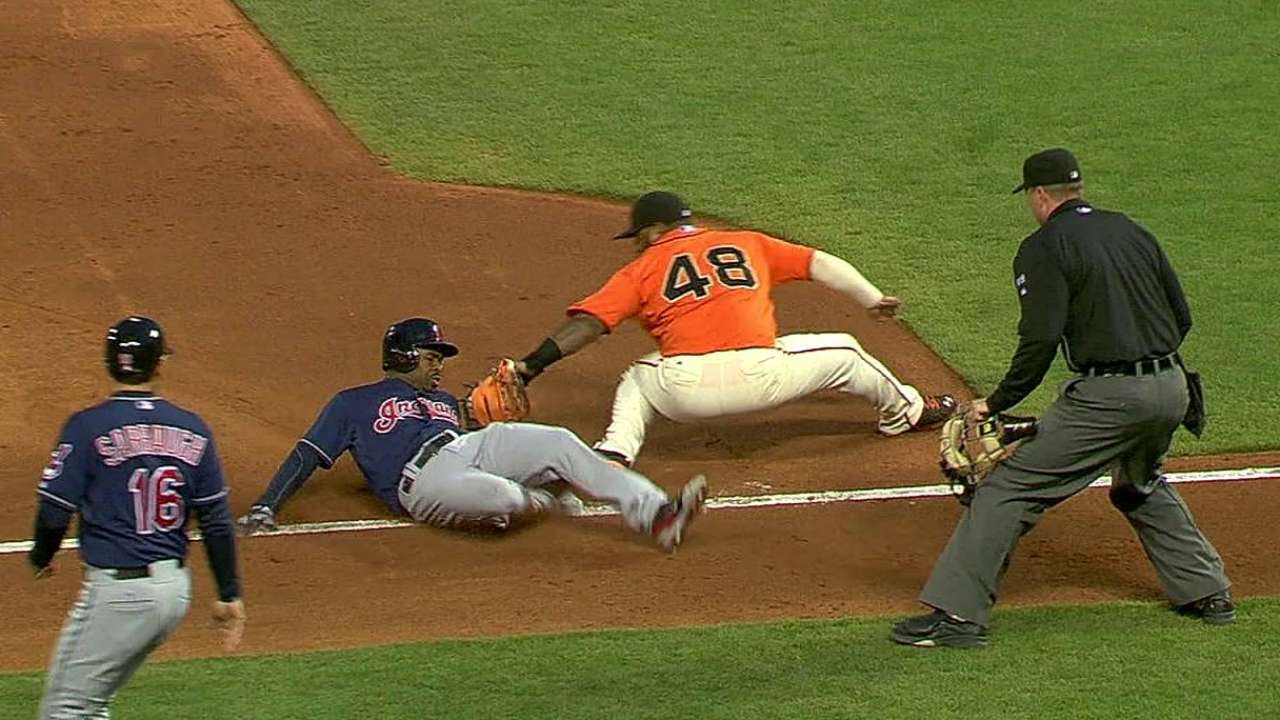 SAN FRANCISCO -- Michael Bourn is beginning to feel like himself again. In the batter's box, on the basepaths and in center field, Bourn no longer is thinking about the left hamstring injury that robbed him of the second half of Spring Training.
The results on the field have been backing up that feeling.
"I think most of all, the game is slowing down to me now," Bourn said Saturday. "When I first got up here, it felt fast for some reason. It felt fast. The balls looked like they were coming harder, even like how the ball was moving through the infield. People turning double plays, getting to the balls.
"I didn't get that last week, week-and-a-half of Spring Training, which I think is really crucial."
Instead, Bourn was forced to work through a gradual rehab of his left hamstring strain, which he sustained while running the bases March 16. During a stay on the disabled list, Bourn appeared in five Minor League rehab games, going just 3-for-20 at the plate between stops at Double-A Akron and Triple-A Columbus.
Bourn then went 1-for-13 in his first three games after being activated by Cleveland. After tallying a single and double in Saturday's 5-3 loss to the Giants, though, Bourn had hit at a .370 (10-for-27) clip with two triples, three RBIs, one walk, one stolen base and three runs in his past six games for the Indians.
"You hope guys are going to go 4-for-4, but I don't know how realistic that is," Indians manager Terry Francona said. "They just need to see pitches and they need to get in a groove. He needs to get his legs under him and he's starting to do that. He'll be fine."
Bourn said the important thing early on for him was not to focus too much on his batting average. The center fielder was confident he would be able to turn things around once he regained his timing in the batter's box.
"No matter how many rehab games you play, man, this is a different level," Bourn said. "The breaking ball is a little tighter. The fastball's got a little bit more giddy-up. That's how it is. I just think my timing is getting back to where I like it right now. It's getting better. And I try not to look ahead to the next game. That's what gets you.
"I try not to tell myself to go out there and get four hits in a game. Just go get one and work from there. Don't try to do too much in one game. I think that's the hardest thing to learn about playing up here. You don't have to try to get it all back at once. You look up at the scoreboard and you see you're hitting .070 or something. You get one hit, it'll go up from there."
Jordan Bastian is a reporter for MLB.com. Read his blog, Major League Bastian, and follow him on Twitter @MLBastian. This story was not subject to the approval of Major League Baseball or its clubs.