Santana staying in cleanup spot for now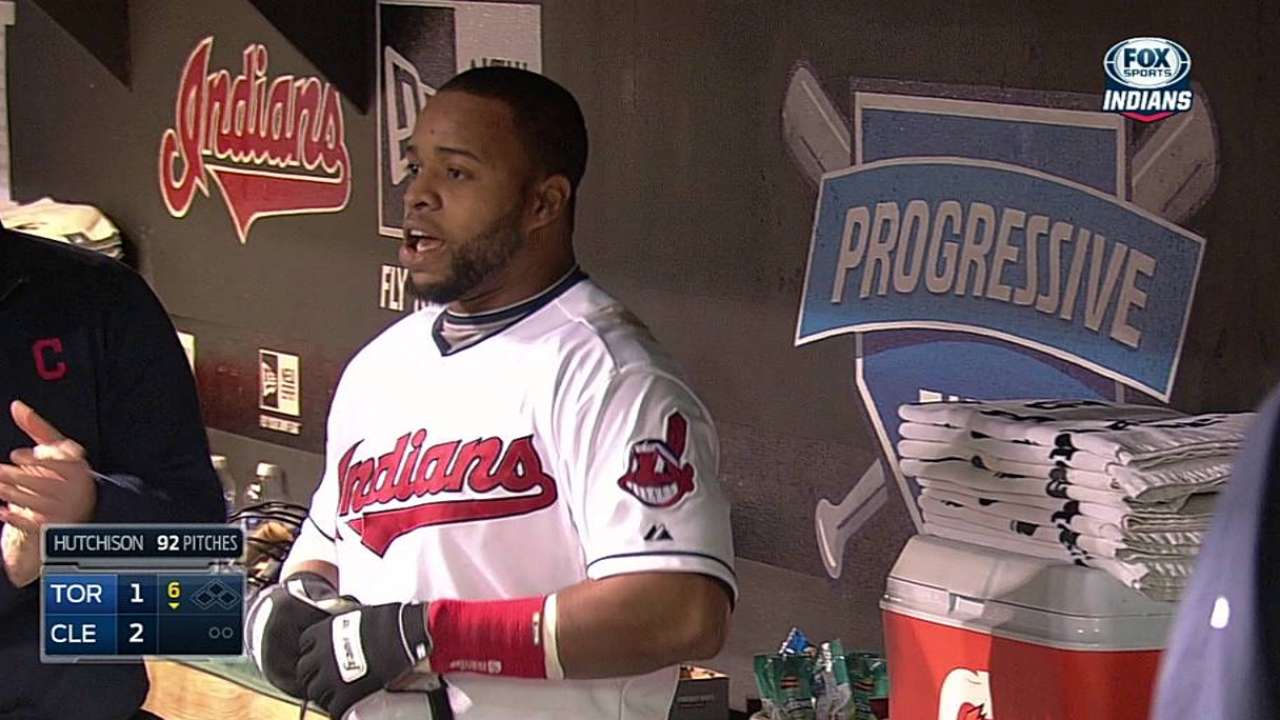 ANAHEIM -- When the lineup was posted on Monday for the opener of the three-game series against the Angels, Carlos Santana's name remained in the cleanup spot. Manager Terry Francona firmly believes that the struggling Santana will turn things around.
"He will hit. He's just too good a hitter," Francona said prior to the game. "He just seems to have temporary amnesia. It'll go away. It's curable."
Francona was rewarded for his faith in the fourth inning, when Santana took Angels lefty Tyler Skaggs deep for three-run homer. The blast -- Santana's second of the season -- snapped his 0-for-12 skid at the plate.
Heading into Monday's game, the switch-hitting Santana -- Cleveland's third baseman, backup catcher and part-time designated hitter -- was batting just .122 with one home run and three RBIs through 24 games. In his last 16 games, he had only three hits in 58 at-bats, for a .052 average. He went 0-for-9 in the Giants' sweep of the Tribe over the weekend.
Through it all, Francona has kept Santana in the fourth spot in the lineup, though he admits to having weighed whether to make a change.
"Man, I've thought about that," he said. "He's such a good hitter and he is going to be a good hitter. At the moment he's having a really tough time. That's that balance that you try to have. As a manager, are you being stubborn, or are you being patient?
"If I really thought it would help us a lot to change it around, I obviously would. He's going to hit. I know that. I hope it's tonight, but whether it's tonight or next week, he's going to hit."
Francona reiterated his preference to keep Santana between the lefty-hitting Jason Kipnis and Michael Brantley. If Santana was not hitting cleanup, moving Brantley to the fourth spot could make an easier late-inning situation for opposing bullpens. Francona also is not keen on the idea of pulling the switch-hitting Nick Swisher (the cleanup man on Opening Day last season) out of the No. 2 spot right now.
Asked if moving Santana down in the order could alleviate some pressure for the cleanup man, Francona said that is not always the case.
"It can," he said, "but it depends on who the person is. Sometimes guys think maybe you lost confidence in them. There's lot of things that come into play."
Jordan Bastian is a reporter for MLB.com. Read his blog, Major League Bastian, and follow him on Twitter @MLBastian. This story was not subject to the approval of Major League Baseball or its clubs.