Chisenhall seeing limited time vs. lefties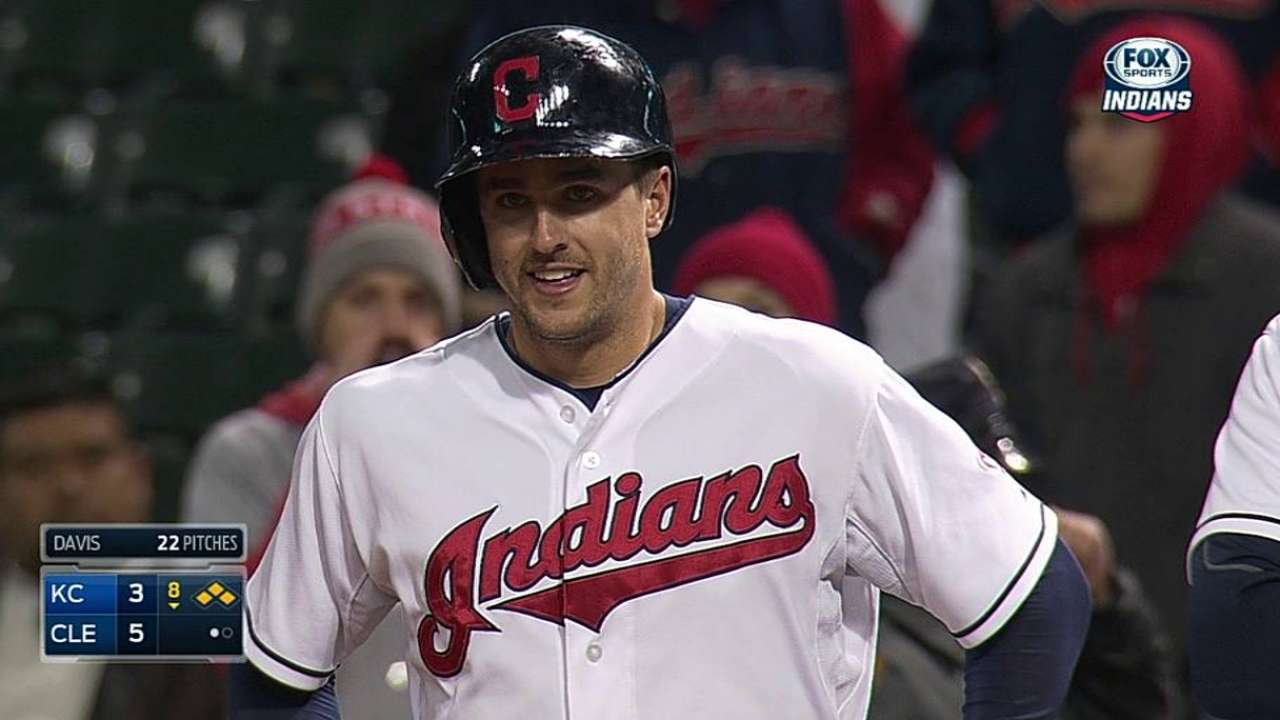 ANAHEIM -- Third baseman Lonnie Chisenhall faces a left-hander every day inside the batting cage. When he is going through his pregame routine, he usually is swinging against hitting coach Ty Van Burkleo, who happens to be a southpaw.
The official at-bats against lefty pitchers have been few and far between.
"It's funny," Chisenhall said on Monday afternoon at Angel Stadium. "We were talking about it today. I told him, 'I haven't gotten an out against a lefty in the regular season in more than six months.' That's pretty good."
He was correct.
The last time the left-handed-hitting Chisenhall made an out against a left-handed pitcher came on Aug. 8 of last season. From Aug. 9 through Sunday, the Indians had 821 at-bats against lefties as a team. During that span, Chisenhall had only two at-bats against a southpaw, and hit a pair of singles in that extremely small sample.
There is a method to the madness. Chisenhall has hit .200 in his career against lefties (.111 in 2013), compared with .264 against righties (.286 in '13). In the second half of last season, while Cleveland was making a push toward the playoffs, manager Terry Francona prioritized winning over his third baseman's development against lefty pitching.
That approach has carried over into this season. For Monday's series opener against the Angels, for example, Chisenhall resided on the bench with lefty Tyler Skaggs on the hill for Los Angeles. Francona gave the nod at third base to right-handed-hitting utility man Mike Aviles.
"That's a really hard one for me," Francona said. "You get a guy like Lonnie that's got the ability to play every day. And you think, well, 'OK, the only way he's ever going to find out is if you do it.' But then you've got a guy like Aviles sitting there. So you try to strike a balance, and winning has to always come first."
The results have backed up Francona's handling of Chisenhall's playing time. During that Aug. 9-to-Sunday stretch, the 25-year-old was tied with Michael Brantley for the Tribe's best batting average (.279), and he led the club with an .820 OPS. Through 15 games this season, Chisenhall was hitting .381 with six doubles and six runs scored.
His lone at-bat against a lefty this season came on April 17 (Detroit's Phil Coke). He singled to right field to improve to 4-for-6 in his career against the reliever.
"We saw how [Francona] used his bench guys last year," Chisenhall said. "I'm in that category this year. They just find good matchups for me. Whether it's DH'ing, playing third or pinch-hitting, they're putting the best matchups out there. You want to have the best lineup every night.
"I also feel like I've put in the right work. I've had much better at-bats, and I'm happier with where I'm at. I'm kind of understanding who I am as a hitter a little more. I'm just continuing to play and waiting to see how things pan out, and waiting for my opportunity."
Jordan Bastian is a reporter for MLB.com. Read his blog, Major League Bastian, and follow him on Twitter @MLBastian. This story was not subject to the approval of Major League Baseball or its clubs.