Tribe pleased with Salazar's bounceback start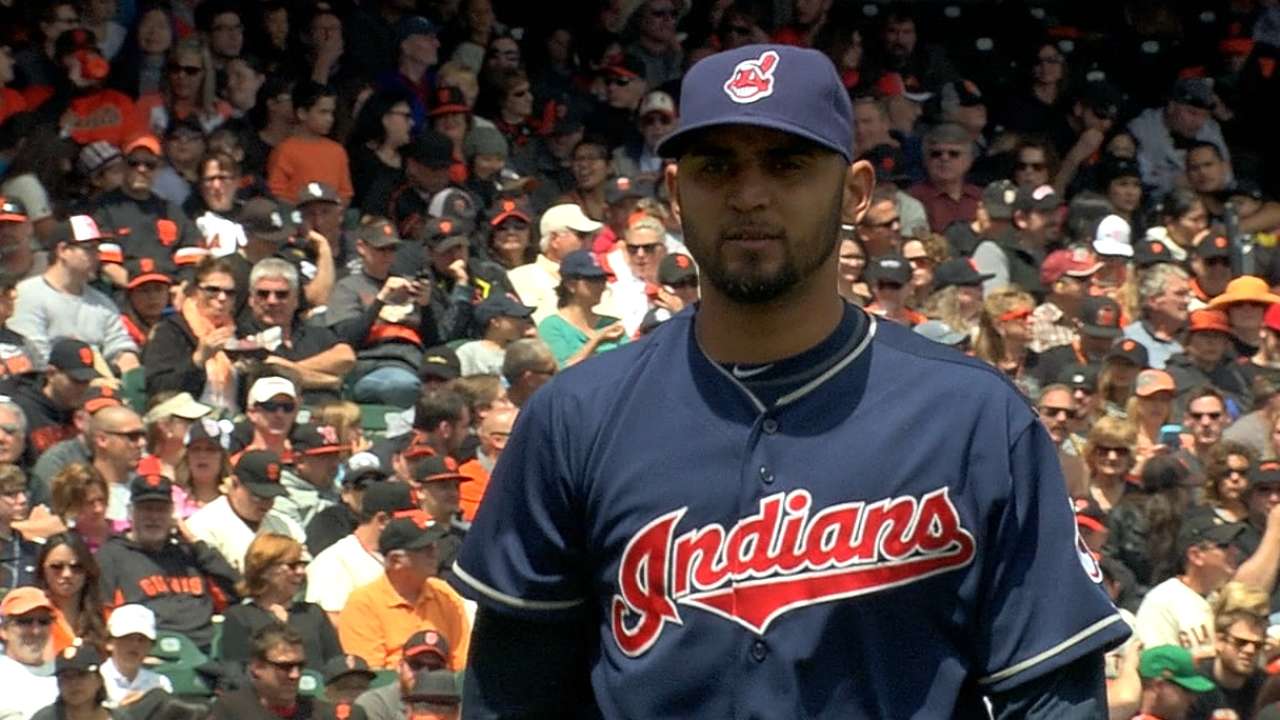 ANAHEIM -- Young right-hander Danny Salazar made it his goal on Sunday to pitch the way he did for the Indians in the second half of last season. Facing the Giants, he accomplished that goal with seven strong innings to bounce back from what had been a rough April.
Pitching coach Mickey Callaway said that Salazar did indeed look like the phenom that Cleveland watched overpower hitters last summer.
"It's exactly what he did last year," Callaway said on Monday. "He came in last year kind of with a chip on his shoulder, proving that he belonged here. He doesn't really have to change anything right now. Just go with the same approach, compete, battle, give them your best stuff every night and see what happens."
Following his outing, which resulted in a no-decision, Salazar said that a key for him was not overthinking on the mound. He made minor adjustments throughout the game, did not fret over his mechanics, and ended with eight strikeouts, one walk and one run allowed in a 101-pitch effort.
In each of his previous three starts, he was chased before logging five innings. During that span, he posted a 9.95 ERA, allowed 19 hits in only 12 2/3 innings and gave up a 1.061 opponents' OPS.
"I think the biggest difference [on Sunday] was just staying with the same intensity," Callaway said. "He was staying with the same delivery. He wasn't trying to pull back and go get some [more velocity]. He just hasn't pitched long enough to be able to do that and stay consistent with his mechanics. I think he just stayed consistent with his mechanics and stayed consistent with his effort level and pitched good.
"[In his previous starts, he was trying to think, 'When I should add?' and 'When should I subtract?' He doesn't have a feel for that yet. He hasn't pitched long enough. So go out there, don't think, just give them your best stuff. Wipe them out when you can. Get ahead like you can, and that's it. He did a really good job of that."
Salazar also registered 19 first-pitch strikes to the 26 hitters he faced, for a first-pitch strike rate of 73.1 percent. Entering the outing he had thrown 55.7 percent first-pitch strikes on the season.
"That's always a key for everybody," Callaway said.
Jordan Bastian is a reporter for MLB.com. Read his blog, Major League Bastian, and follow him on Twitter @MLBastian. This story was not subject to the approval of Major League Baseball or its clubs.