Carrasco sent to 'pen; McAllister to start Wednesday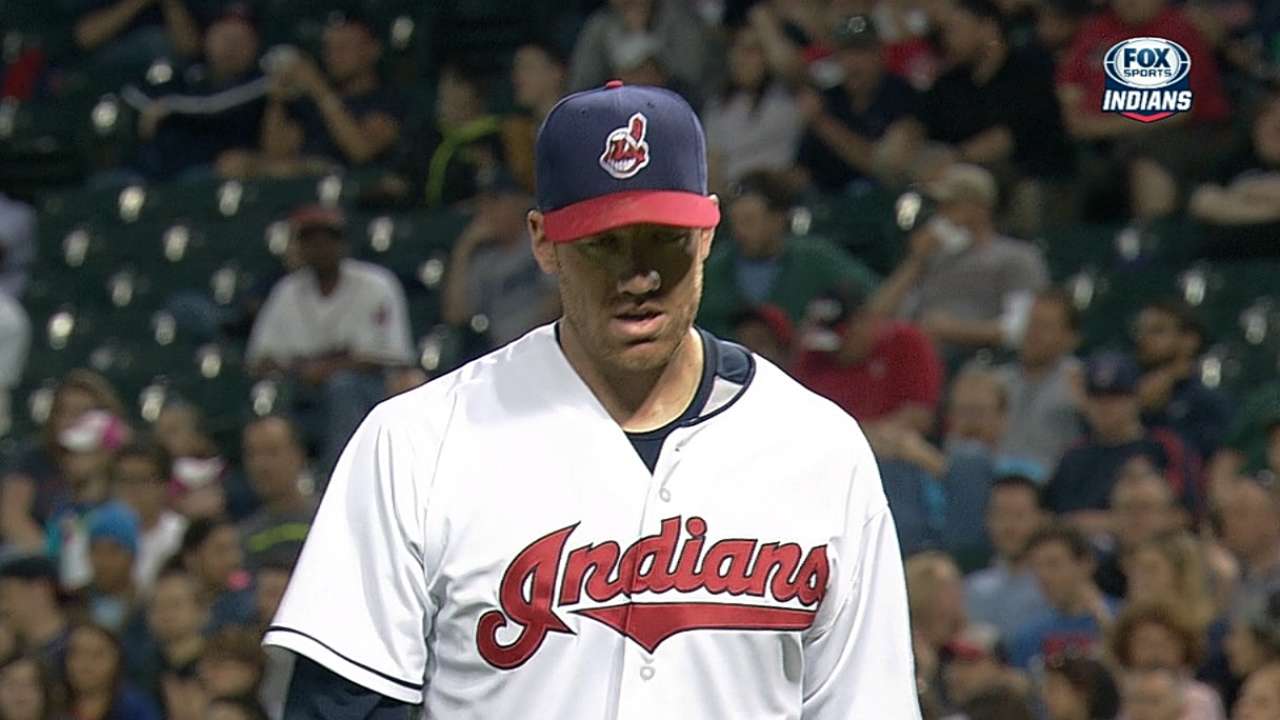 ANAHEIM -- The Indians gave right-hander Carlos Carrasco a spot in the rotation with the hope that he would realize his potential and take flight. But after four disappointing outings, Cleveland has decided to make a change.
Following Monday's 6-3 loss to the Angels, manager Terry Francona said that Carrasco will have a new home in the bullpen. Right-hander Zach McAllister will start in place of Carrasco on Wednesday against the Angels on short rest.
"We've put Carlos in the bullpen," Francona said. "That way we kind of fortify our bullpen. Hopefully, we can get him on a roll and he can help us out there."
Through four starts (22 innings), the 27-year-old Carrasco went 0-3 with a 6.95 ERA. On Friday in San Francisco, he took the loss after being charged with four runs on five hits in a season-high six innings. Since he last won a start for Cleveland, on June 29, 2011, he has gone 0-12 with an 8.09 ERA in 17 starts.
Carrasco sat out the 2012 season after undergoing Tommy John surgery on his right elbow.
One issue this season for Carrasco has been successfully navigating through a lineup multiple times. Opposing hitters had a .250 average and .743 OPS in their first plate appearance against him and a .406 average and 1.022 OPS in their second.
Last season, Carrasco posted a 1.32 ERA in eight relief outings for Cleveland.
As for McAllister, he logged just 75 pitches in a loss to the Giants on Saturday. In that outing he was charged with four runs on five hits with six strikeouts and one walk. He might have stayed in the game longer, but San Francisco took a one-run lead in the fifth, and the pitcher's spot in the batting order was due up in the following inning.
McAllister, who worked through a bullpen session on Monday, has no problem with starting again on only three days of rest.
"That was really a short outing for me as far as pitch count goes," McAllister said. "I was able to bounce back and feel good. I have no issues with it. It's not a problem for me at all. I'm ready to go."
Thanks to a scheduled off-day on Thursday, the Indians will not need a fifth starter until May 6. That gives them a week to decide what to do with the vacancy in the rotation. Two options at Triple-A are Trevor Bauer and Josh Tomlin.
Francona hesitated when asked if Carrasco might return to a starting role.
"We're going to put him in the bullpen and we'll see," he said. "I just think that for our team and for him, I think maybe we have a chance to maybe try to get him some more confidence and, at the same time, help us win some games."
Jordan Bastian is a reporter for MLB.com. Read his blog, Major League Bastian, and follow him on Twitter @MLBastian. This story was not subject to the approval of Major League Baseball or its clubs.