Kipnis strains abdomen, will be further evaluated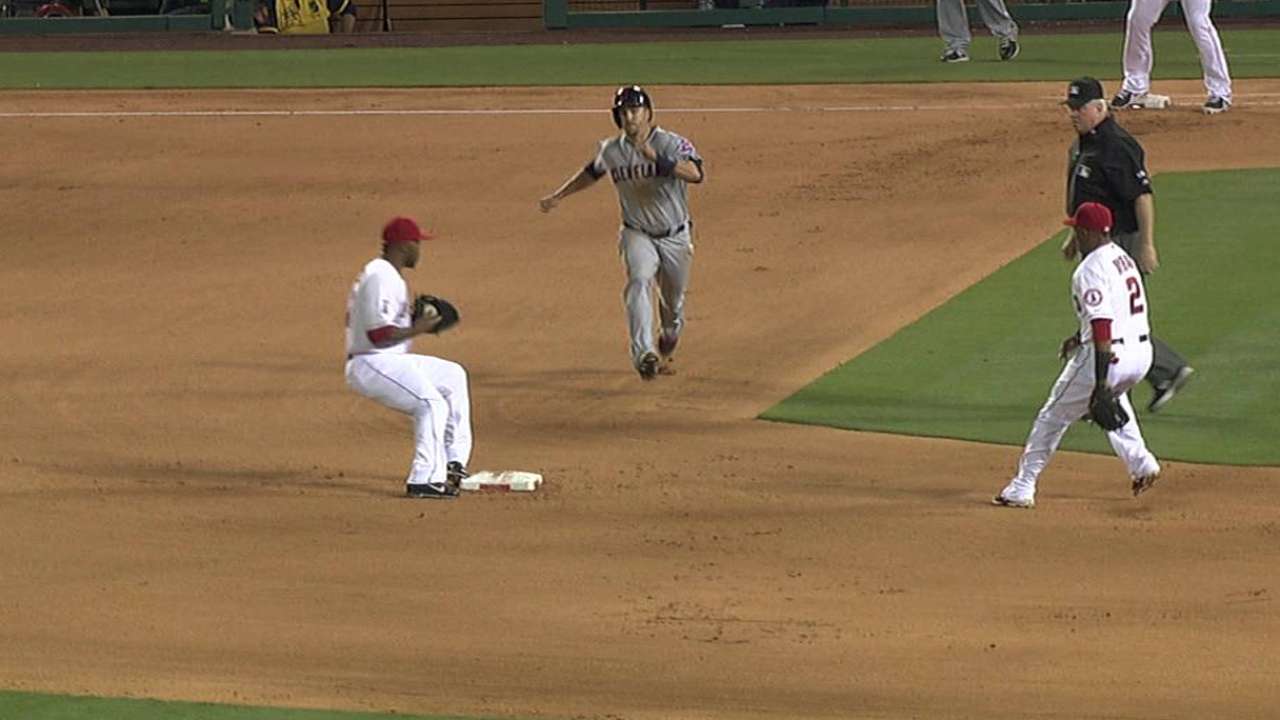 ANAHEIM -- Through his frustration, Indians second baseman Jason Kipnis managed to maintain his sense of humor Tuesday night.
Kipnis exited Cleveland's 6-4 loss to the Angels in the fourth inning with a right abdominal strain and will be re-evaluated Wednesday with the hope of avoiding a trip to the disabled list. If Kipnis is forced to miss an extended amount of time, he joked that the Indians probably will be just fine.
"If you've been paying attention," Kipnis said, "a .240 average is not too hard to replace right now."
All kidding aside, Kipnis was clearly upset over being forced to leave due to injury in the Tribe's fifth straight defeat. The second baseman felt a pain in his side and back on the swing that resulted in a double-play groundout against Angels starter Jered Weaver in the fourth.
Kipnis said the discomfort was sharp and immediate.
"I'd never really felt that before," he said. "It almost felt like someone punched me in the back. it knocked the wind out of me, so I couldn't really breathe while I was going down to first base. It wasn't letting go. It's kind of an abdominal strain. It's a little too early to tell. Mild, though, I believe.
"I treated it and we'll see how we wake up [Wednesday] morning and see how it feels. Hopefully it's nothing too long, no need for a DL. That's obviously the optimistic view, but we'll see how it feels."
Indians manager Terry Francona offered a similar assessment.
"The training staff is hopeful that it's more of a cramping-type thing," Francona said. "We'll know a lot more when he shows up [Wednesday] and he doesn't have the adrenaline of the game going and he's had a chance to sleep. We'll know a lot more then."
Through 27 games this season, Kipnis has hit .234 with three home runs, six doubles, 12 RBIs, four stolen bases and 12 runs scored for the Indians. The second baseman was 0-for-2 on Tuesday before leaving the contest against Los Angeles.
Utility man Mike Aviles replaced Kipnis at second base in the home half of the fourth inning. The Indians also have super sub Elliot Johnson, who can handle second base, along with a variety of other positions.
"It's very frustrating," Kipnis said. "In the nicest way of putting it, I despise the DL. I don't like the training room. I don't like being a part of that. It's just not what we need right now. But, the one thing that we can always rely on is the depth of this team. We have very good guys to fill in for me."
Jordan Bastian is a reporter for MLB.com. Read his blog, Major League Bastian, and follow him on Twitter @MLBastian. This story was not subject to the approval of Major League Baseball or its clubs.